Description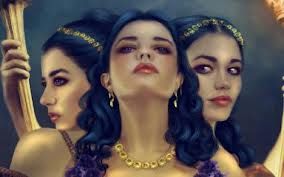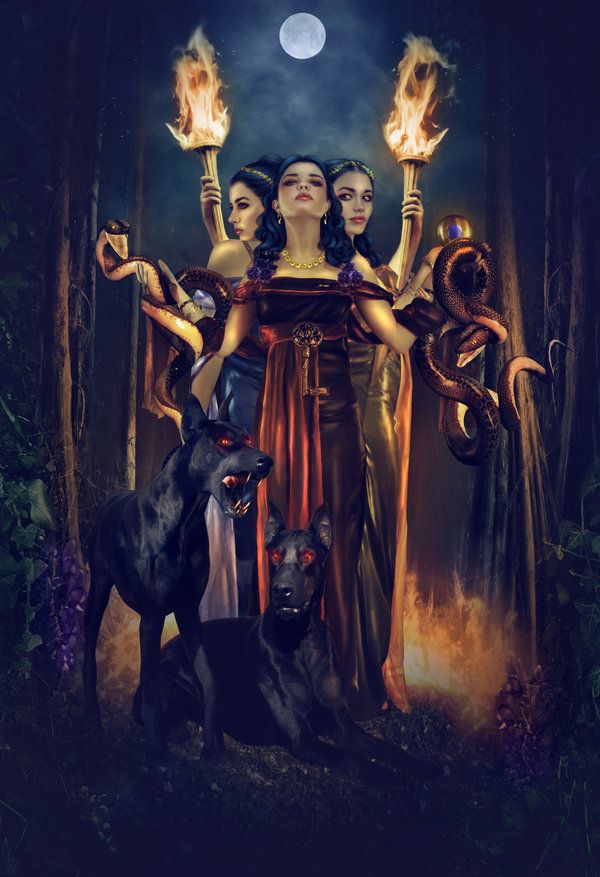 BEHOLD THE IMBUED SPIRIT PENDANT OF GODDESS HECATE
- PETITION HER FOR HELP FAST! -

The Goddess Hecate is a triple Goddess in that she rules the Heavens, Earth and the Underworld. During the times of Hecate, there really was no such thing as a Crone. Dark Goddess yes. Crone, no. If you look at images of any Goddesses, they are never depicted as old. Dark Goddesses in ancient times did not mean old but merely an aspect of what they represented. The phrase "Mother, Maiden, and Crone (Triple Goddess) is a neo pagan concept and most particularly Wiccan. The first time this phrase was brought forth was through Robert Graves in his book White Goddess. He claimed there was a triad of Goddesses as such, but his theory has been discredited due to lack of primary sources and poor research. Maiden, Mother and Crone sounds very poetic but that is all that is was and is. For proof, one can merely look at ancient plaques and/or paintings on ancient walls or even statues which never depicted an elderly woman. However, to Neo pagans, as a triple Goddess, Hecate represents Maiden, Mother and Crone. The Goddess Hecate is Mistress of the Night and represents the waning to dark cycle of the Moon, and most particularly the three days of the dark moon. Hecate symbolizes the dark within us, the part of our psyche we refuse to acknowledge.
Many ignore the wisdom, the strength and the truth of Hecate, because our fear of the darkness is so strong. Hecate is associated with the dark side of the moon, but this is the true Moon. The Moon has no light of its own, only reflected light from the sun. Dark is the Moon's true color as is Hecate's. Hecate can be called upon during the waning moon and more powerfully, during the three days when the moon is dark. In pronouncing her name, in the Greek language the "H" is silent. So, to properly pronounce her name is "E-CA-TA" or "e-CO-ta." To the Neo pagans, in Her maiden aspect, she stands for new beginnings. She can also be called upon when you need to look at something in a new, fresher way....a way that you have never looked at it before. You turn to Her when the moon begins to first wax.
In Her Mother aspect is a time to turn to Her when you need nurturing and protection like any mother would give. Turn to Her when the Moon is Full. In Her Crone aspect, it is a time to turn to for protection, wisdom and magick. However, please bear in mind that Hecate is not a Goddess full of tenderness and compassion with white lace and linen. She is also more prone to be stern with you if you brought a situation upon yourself. However, Her wrath is swift and just to those who cause harm to a follower of Hers, because those who seek Her, honor Her and do not fear Her are in Her protection and She does not take lightly to those who cause them harm. She does not tolerate nor does She coddle. Turn to another Goddess if you seek this. Her actions are swift and without frills. So, when you do call upon Her, be prepared for Her swift actions and changes because it might not be what you expected. Hecate teaches us an important lesson, which is that the feminine should be valued for itself, not because it brings sexuality or power, but because deep within it there is an eternal wisdom.
Hecate is also the High Priestess, the keeper of the Mysteries. Hecate is not the priestess who seeks the inner knowledge, but High Priestess who has found it and imparts it to others. Hecate, who sits enthroned before the Veil of the Temple as the High Priestess, the card in the Tarot which is ruled by the Moon. To reach daylight on the other side of the Veil, we must all become at one with the Dark Mother of the night. Whether it is Hecate guarding the home or of the temple, She will avert evil and provides protection. The Goddess Hecate is also known as the liberator of women, as she sets women free from the bonds created by man. That is why the Christian Church put Hecate down and created her as the Goddess of evil and destruction. During Medieval times, pagans were being tortured based on their belief in the Goddess. Patriarchy reigned and the fear of feminine power caused the Church to demonize Hecate. She was made infamous as the crone; old, wrinkled, ugly, warts protruding from her nose and chin, mysterious, dark and loathsome. Many mistakenly call Her the destroyer, but She is not for if you destroy something, that something is forever gone. You cannot bring something back that has been destroyed. It has been said that the Goddess's service is perfect freedom.
She is the liberator because She is manifest in our deepest drives and emotions, which always and inevitably threaten the systems designed to contain them. She is love and anger, which refuse to fit comfortably into the social order. To be "free from slavery" once meant that, within the ritual circle, all were equal, whether they were peasant, serf, or noble in the outside world. Slavery today could be mental and emotional as well as physical: the slavery of fixed perceptions, of conditioned ideas, of blind beliefs, of fear. Witchcraft demands intellectual freedom and the courage to confront our own assumptions. It is not a belief system: it is a constantly self-renewed attitude of joy and wonder to the world. Hecate enforces feminine independence from masculine influences and this deals in all things including the religion known as Wicca. Wicca is heavily influenced by the male God. The Sabbats are centered on the male God. The word Wicca is a male term....a term connected to the Goddess religion. Hecate originally was a Thracian and pre-Olympian Goddess.
Zeus bowed down to her antiquity by granting to Hecate alone a power shared by Zeus, that of withholding from humanity anything she wished. He also "granted" her the powers of the heavens, on Earth and the underworld......as if She did not have these powers already! He gave her nothing of that which She did not already have. Of all the Goddesses, she was the most markedly triple and the most complex. She was Goddess of the Wild Hunt. She was to Greeks and Romans, especially the Goddess of the crossroads. Statutes of Her stood there, and food offerings –"Hecate's Supper" – were taken there at dead of night, on the eve of the full Moon not because She represented the Full Moon but because of the mystery and magick of the Full Moon itself. Her annual festival on August 13 was a propitiatory one, to avert the harvest-destroying storms which the Moon is apt to send at around that time. She also haunted graveyards and the scenes of crimes–as a goddess of expiration and purification. Hecate is the Darksome Mother, in both the positive and in the negative sense. To those that dare to welcome Her, she brings creative inspiration.
She is Hecate Antea, the Sender of Nocturnal Vision, and, typically of a Moon Goddess. She is Hecate Trivia, Goddess of the Crossroads. One of her symbols is the torch, for the Dark Mother also holds the light which illuminates the Unconscious and reveals its treasures. With Her torches she guides those who are seeking the mysteries. The light from these torches will lead those wishing to understand the mysteries. Many Goddesses carry torches but the Goddess Hecate is the only Goddess who carries two. In the Tarot, She is the Threes and the High Priestess; Her gems are star sapphire, pearl, moonstone, and crystal; Plants are the yew tree, cypress, opium, poppy, almond, mugwort, hazel, moonwort, civet, menstrual blood, camphor, garlic, aloes, all sweet virginal odors; Tools are the cauldron, the besom, knives, the key; animals are the dogs and horses, black cats. In ancient times, when one saw a black dog at a cemetery, it was said that that was Hecate. The owl is Her messenger. Her chariot is pulled by dragons. Hecate's colors are silver and black. Some like to have the color purple as one of Hecate's color, which is easy to understand. In the world of artists, purple is used to create shadows and darker tones. In some of your black birds such as Ravens, Crows and crackles, one can see the sheen of purple in their feathers.
Hecate taught the Witch Medea the secrets of magick and empowered Medea in order for Medea to draw down the Moon, which Medea often did. See Drawing down the Moon. The Moon Goddess Selene, who is the actual Full Moon, is angry with Medea for pulling Her (Selene) from the nightly sky and to draw the moon into Medea. Selene wanted to remain in the sky so that she could ever watch over Her sleeping lover. Medea needed Hecate's empowerment to draw down the Moon. So, as much as Wicca would like one to believe, as long as you are empowered by the Goddess Hecate, you need no one else to draw down the moon into you. You need no male to perform such a magickal experience.
As mentioned early, the Goddess Hecate sets women free from the trappings of men and that includes the masculine religion known as Wicca wherein it states that only a High Priest can draw the moon down into the High Priestess. Through Hecate's Cauldron, we must look at our true self, the nature of our motives and the results of our actions, because only through Her cauldron can we truly be reborn in becoming a better person than we were before. Only when we look into Her dark cauldron can we see the light. Hecate, and none but She, is Queen of all living things. It is through Her that all things live or die. She smiles as the energies of the dark moon is everywhere for there is no power like Her power and no living thing can withstand Her power. For She is anticipation. She is the fulfillment. She is death. Hear her words, children, worship and be glad, for if you seek Her, She is with you always. She was with you in the beginning and shall be with you at the end. Days of Hecate are August 13 which She is honored and prayed to in order to not send fearce thunderstorms and ruin and the crops.
November 16 is the Night of Hecate which begins at sunset. This is the night of Hecate's supper and animals were sacrificed in honor of Her. November 30 is Hecate-Trivia--the day of the Crossroads. The 29th of each month is the Moon of Hecate. I have come across several websites which states days such as May 8, a date in June and December 31 and even January 31 are festivals of Hecate. Through all of my research on Hecate, I have never seen any historical proof on those dates I mentioned. The date of December 31-January 1 there was a festival but it was in honor of the God Janus who has two faces which can see the past and into the future. There is nothing wrong in performing a ritual on behalf of Hecate on December 31 to release the old and bring in the new. For the date of January 31, a website stated that this is the date when Hecate hands over her torch to Brigit, indicating the ending of winter and the beginning of spring? In the changing of the seasons, the myth of Demeter, Persephone and Hecate explains the seasonal changes plus the fact that Hecate is Greek and Brigit is Celtic.
What you are getting is a chance to own your very own white magickally imbued spirit of the Goddess Hecate power pendant! This pendant is incredibly beautiful, giving off the glittering colors of both light and dark, and representing all that is embodied by the Triple Goddess of the moon. Imbued pendants are quite a bit different then spirit bound vessels, in that they act as a portal to another dimension, allowing the imbued to hear you directly, and allowing her to immediately come to your aid.
Once you have received the pendant, all you will need to do is petition her when you are in need. You can use any prayer to Hecate, even making your own. However, here is one that we use, which we also found on the internet some time ago, and has been working perfectly to get her attention!

Quiet is the night
Dark is the Moon
I ask Hecate, the Crone
To take Her throne.
Sleep, sister, sleep
Be not alarmed,
For the Great Goddess
Keeps you from harm.
Quiet is the night
Dark is the Moon
I ask Hecate, the Crone
To take Her throne.
Sleep, brother sleep,
Be not alarmed,
For the Great Goddess
Holds you in her arms.
Quiet is the night
Dark is the Moon.
We honor Hecate the Crone
Who has taken Her throne.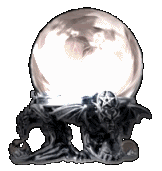 Once you have held the pendant in your right hand, placed your left over the top of the pendant, and said the words above - or some rendition thereof, you are free to talk with her. Go ahead and voice your needs to her. Remember, she is here to help you, but do not bother her with petty things, as she will surely let you know if she thinks your concern is simply trivial. She is incredibly busy, but will help you when you truly need her!
Remember, this is 100% REAL MAGICK. It is not a game. It should not be used in any way, other than out of total respect to the Goddess.
Petition her when you are at a crossroads, with a decision to make that you need divine guidance in answering. Petition her for feminine strength, divine knowledge, and power of your situation. Take charge of your life again. She is fierce and strong, and can teach all women lessons about themselves. She will help you identify with both the light and dark in yourself, and make good decisions for your future. She can help you triple your mental clarity, psychic visions, clairvoyance, astral projection power, and tune you to the vibrations of the moon and earth. She is an incredible giver, as long as you are grateful and thankful for her. Forget to thank her, and she won't be as quick to grant you a wish again though, so be careful when asking for things without gratitude for what she has already given. She is incredibly powerful, and there is nothing that she cannot bestow upon you if she so chooses to do so. The possibilities are endless.
One of the top 10 Elite, Original Metaphysical Sellers! We have been offering metaphysical services and items to clients for more than 25 years. We have over 1,000 happy internet clients, and many thousands of transactions and clients through the years. Before eBay and Etsy went public, we were there serving clients and spreading metaphysical awareness. We have been in the metaphysical industry prior to when it was possible to reach so many clients by internet! Let us help you help yourself to change your life for the better as well! Become another happy client!
We offer 100% Authentic Magick – we spell cast items, conjure spirits, offer healing and psychic services, and haunted artifacts from our travels. Haunted Paranormal & Occult is our life! We are here to answer questions and rehome spirits that are needing new masters. We specifically work with metaphysical practitioners and a conjurer that deals in summoning Illuminati owned spirits, getting them out of the hands of the most powerful and certainly already most fortunate, and into the mastership of those who they could be the most service to! We also offer at 100% FREE Paranormal, Spirit Keeping, Bonding & Communication FORUM for ANYONE to join and communicate with others of similar interests! Check it out and join the magick! You can click the link here or find it on the homepage of our website!
http://spiritsandmagick.forumotion.com/
Paranormal experiences occur in different ways and take different forms. We take a lot of pride in what we offer in our store. This is our life and we love what we do. We have been involved in the metaphysical field for many years, and we have established many great connections and relationships through our work that enable us to offer items from all over the world to you.
We would like to address that we are selling metaphysical items, and as such, much of our information is received by hearsay, folklore, mythological tales, and channeled information. As such, we will not be held liable for what does/does not happen after you have purchased one of our items. Our items are clearly labeled, "No Returns Accepted" because of the nature of the business we are in. When you purchase one of our items you are fully understanding this, and taking full responsibility for yourself and your purchase. "Magick" is different for each and every person, and the results you experience are different. Each one of us on this earth experiences the world differently, the same way we experience the metaphysical differently than one another. We are passing along and re-homing many spiritual companions, passing on and delivering to you channeled messages and hearsay regarding these spirits and/or haunted items, and we are not responsible for your experiences with them after that point and we are not responsible for the "validity" of the information. We do study and research as much as possible after we have received channeled information to decide whether or not it resonates with ourselves after we have received it. We ask that you do the same.
If it resonates with you, please purchase from us. If it does not, please do not purchase from us. There is no way for us to know whether or not our spirits and the information we have received is truth. We want to believe our spirits have told us and our friends the truth, but we are not "guaranteeing" any of the information we have provided.
Channeled information from any source be it spirits, extra-terrestrials, or humans, is exactly as we have stated – there is no way for us to verify truth from untruth, and so we just provide the information as we have received it. This is not a place for the skeptical, as magick has never and will never work for those who do not believe in it. It is as simple as that.
We feel we were called to do this job in this lifetime, and we ask that you buy from us accordingly as it resonates inside you.
Payment
Payments are accepted via Paypal and Amazon Checkout, as well as credit cards using the direct checkout on Bonanza. You may also choose to send a money order as payment. If you choose this method, you are required to send a confirmation and tracking code within 24 hours of making your purchase. All purchases with Money Order as the chosen method, that have not sent confirmation of payment within 24 hours, or have otherwise spoken to me, will be terminated, and appropriate Bonanza feedback will be left.
Payments are due within 3 calendar days of purchase. If you have an extenuating circumstance, or are requesting a payment plan, please email us FIRST, before purchasing, to work this out. We do not allow payment plans without a substantial deposit placed on the item at the time the agreement is made. Substantial down payment is due via money order or cash, not using credit card methods. No exceptions will be made to that rule.
Shipping
SHIPPING – We ship within 3-5 business days of your payment. Please note that we do not ship on weekends or holidays, so please take care to make your purchases within adequate time for you to receive it, especially during holidays. We usually ship First Class or Priority, and we do offer International shipping. If you need to receive an item quicker than 3-5 business days, please let us know and we will adjust your shipping cost to reflect an expedited shipping rate. This may not be available during Christmas season, as unfortunately, the post office will not guarantee how quickly items will arrive during the month of December.
The cost of shipping internationally is different than the cost for shipping in the United States. We do try to ship using First Class whenever possible, as the cost is lower. Please remember when we are sending items outside of the United States, we are not responsible for any customs delays, or custom fees that may occur. Although seldom, it does happen. We occasionally have issues with the postal service due to natural disasters and holidays, so please plan your shopping accordingly if you are on a tight timeframe.
Please Note: Some of our magickals are custom cast and/or created and crafted AFTER your purchase. Most are pre-cast/conjured and ready for Immediate shipment. Custom conjures and certain spells can take up to 14 days or more to complete. Please be aware of this. If this item will take longer to deliver to you, the listing will be noted as such!
COMBINED SHIPPING DISCOUNT: We will combine items at no extra charge when paid for together in one invoice at check out, as long as the packaging will allow us to do so. Save Money when you buy more. Please email us when you are finished purchasing so that we can combine your invoice for you.
SPECIAL NOTES REGARDING INTERNATIONAL SHIPPING: The United States heightened their security measures for packages shipped overseas on November 18, 2010. This has slowed down shipping times tremendously. Packages that used to take 7-10 days can take up to 4-6 weeks. Canada, Australia and the UK are particularly slow. We don't have any control over this, so please be patient if your package takes longer than expected. Shipping Priority or Express often ensures that it will be delivered within 3 to 10 days. If you need an item shipped via Priority or Express Mail, fees are in excess of $20 starting, but please contact us immediately after you purchase, and before paying, so we can send you an adjusted invoice to accommodate the change in shipping cost. Delivery Confirmation is NOT actual Tracking nor is the International Custom Form number. These numbers are scanned in at time of mailing confirming the Post Office has the package and usually scanned again at the main mail sorting plant near here—AFTER that they do NOT usually update until AFTER delivery. If you wish true constantly updated tracking we can add that for an extra charge but it is very expensive.You will generally receive an automated email from Paypal when your item is shipped. If you feel that you must be able to track the package, you will need to pay for the more expensive shipping method. This is very expensive, but is your only way of ensuring that you know your item is safe. Unfortunately, with the issues in each country, we cannot guarantee, that after an item leaves the United States, it will arrive to you without interference. The post office, and ourselves, have had countless debates over this. They also have issues with countries charging their citizens extra customs fees randomly, this is also something we have no control over, and although it is only occasional, it is something that we cannot expect nor guess about.
NO LAYAWAYS ARE BEING OFFERED AT THIS TIME.
A Word About Magick:
Due to the nature of our business, we do not accept returns or give refunds. We try to never make mistakes on our shipments, but if for some reason we have sent you an incorrect item, please let us know right away so that we may correct that error.
REFUNDS: All sales are final. The only time we ever offer a refund is if the item has arrived damaged. This rarely occurs, but if it does, we require that our clients email us a picture of the damaged item, and upon our receiving the photo and deeming that it is, in fact, damaged in transit, we will require that the buyer return the damaged item to us, at the cost of the buyer. Once we are in receipt of the item, we will then return your purchase price, minus the shipping cost.
We are very strict about our NO RETURNS ACCEPTED policy, as well as have added this disclaimer so that you are fully aware that when you purchase from us, you are releasing us from any liability associated with your purchase, our items, and by purchasing from us, you have agreed to our policies as stated above.
LEGALLY REQUIRED DISCLAIMERS:
Sold As A Curio Only…Please Read the Disclaimers below!
Disclaimer:
Pursuant to the current United States Postal Service regulations and other Country, State, City and/or Federal and/or other nation's laws we must state all items on this site are sold "for entertainment purposes only". We must advise all products are "Sold as Curios Only" All information herein is from traditional or historical reference and intended to help you make an informed decision.
FOR ENTERTAINMENT PURPOSES ONLY-WE CANNOT GUARANTEE THE LEVEL OF PSYCHIC OR PARANORMAL ACTIVITY THAT MAY OR MAY NOT OCCUR. NOT RESPONSIBLE FOR MISUSE OF THIS ITEM OR IT'S POWERS-NOT A SUBSTITUTE FOR MEDICAL TREATMENT-LEGAL ADVICE, ETC. PLEASE SEE A DOCTOR FOR HEALTH PROBLEMS AND THINK POSITIVE-VISUALIZE YOUR HEALING-REMEMBER MODERN MEDICINE IS A MAGICK OF SORTS, TOO. BUYERS MUST BE OVER 18 YEARS OF AGE.
---
The above statements are LEGALLY REQUIRED in some locations and should not reflect on our dedication to service and genuine quality products and services.
Our email address is MoondancerOriginals@yahoo.com
Our hours online are random, and we do our best to respond to all messages in the order in which they are received. We have become very busy, but your messages are important to us. Please allow 24-48 hours for a reply, but should you not hear from us, please email again in case we have overlooked you! It most likely was not intentional, but unfortunately, we cannot do more than one thing at once and sometimes we get behind.
We have several online stores and may offer different items in each site. Please feel free to browse all of our locations to get the best deals and pricing. Some discounts and pricing options are special offers exclusive to the site, and are not transferable. All items and prices are subject to change without notice and are not valid retroactive of a purchase.
If you are expecting instructions on using an item, meaning, if in the listing it denotes that you will receive instructions, they will be sent AFTER you receive the package safely. This is so we can maintain our communication with you, and know that you received the package. We do this for the safety of alchemical information and your own confidentiality.
Look for us on: Facebook, Twitter and MoondancerOriginals.com
Moondancer Originals text, photographs of items or services, logo and all listing descriptions, written experiences and testimonials, are plagiarism protected and are Copyright material. Use of any Moondancer Originals material is considered copyright infringement, and is prohibited by law without written permission from a Moondancer Originals representative.
txzj pxzj2837 txzj67