MIRACULOUS MARY
"OUR LADY OF GUADALUPE"
ENERGY TALISMAN PENDANT
FOR RITUAL USE
"To Help You Get In Touch With Mary FAST"
LET HER HELP YOU IN YOUR TIMES OF NEED!

This pendant could be used in ritual to help you connect with her when you need to call upon her. Let the Lady of Guadalupe be your "Divine Worker." Ask her to help you make the right decisions, heal yourself or someone close to you, especially of addictions, help you with your financial struggles, or anything else you would like her help with. You are not alone. There are thousands of people all around the world that are constantly calling upon her for her help and divine intervention.
When you are in need of Mary, all you must do is ask. Below, you will find the prayer to recite to get her attention and ask for her help. Say this prayer often to strengthen your connection to her. Whether you are at home, work, or out somewhere, she will hear you. Keep your Mary statute displayed somewhere in your personal space so that you will be able to feel her near you and know that she will be there for you in your time of need.
For more details on this item, please visit our website.

PRAYER TO PETITION OUR LADY GUADALUPE
Remember, O most gracious Virgin Mary of Guadalupe, that in thy celestial apparitions on the mount of Tepeyac, thou didst promise to show thy compassion and pity towards all who, loving and trusting thee, seek thy help and call upon thee in their necessities and afflictions. Thou didst promise to hearken to our supplications, to dry our tears and to give us consolation and relief. Never was it known that anyone who fled to thy protection, implored thy help, or sought thy intercession, either for the common welfare, or in personal anxieties, was left unaided. Inspired with this confidence, we fly unto thee, O Mary, ever Virgin Mother of the True God! Though grieving under the weight of our sins, we come to prostrate ourselves in thy august presence, certain that thou wilt deign to fulfill thy merciful promises. We are full of hope that, standing beneath thy shadow and protection, nothing will trouble or afflict us, nor need we fear illness, or misfortune, or any other sorrow. Thou hast decided to remain with us through thy admirable image, thou who art our Mother, our health and our life. Placing ourselves beneath thy maternal gaze and having recourse to thee in all our necessities we need do nothing more. O Holy Mother of God, despise not our petitions, but in thy mercy hear and answer us.
(Here mention your petition.)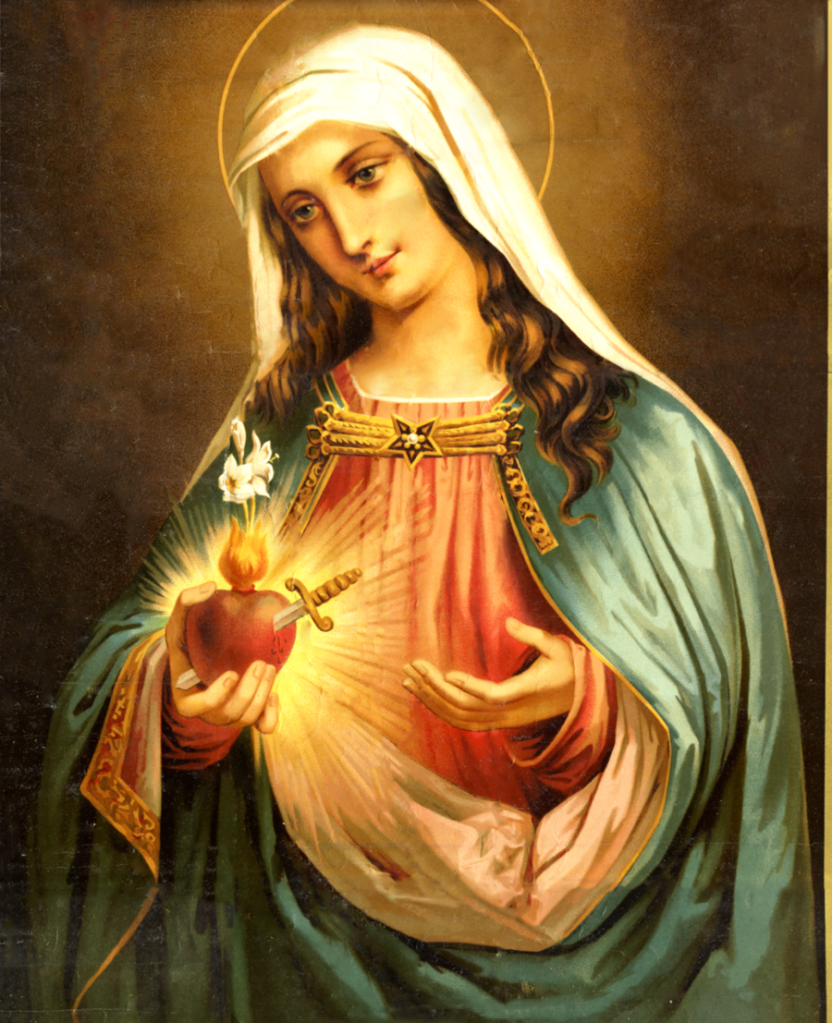 ABOUT OUR LADY OF GUADALUPE
BACKGROUND AND HISTORY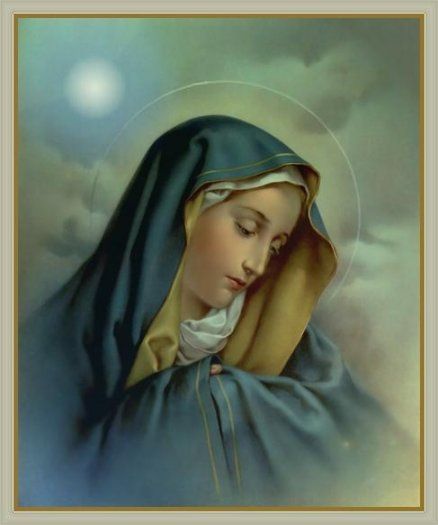 Our Lady of Guadalupe (Spanish: Nuestra Señora de Guadalupe), also known as the Virgin of Guadalupe (Spanish: Virgen de Guadalupe) is a celebrated Roman Catholic icon of the Virgin Mary. Under this title, she is officially proclaimed by the Roman Catholic Church as the Patroness of Americas, Empress of Latin America and Protectress of the Unborn Children.
According to Roman Catholic tradition, on December 9, 1531, Juan Diego, a recently converted Aztec indigenous peasant, had a vision of a young woman while he was on a hill in the Tepeyac desert, near Mexico City. The lady asked him to build a church exactly on the spot where they were standing. He told the local Bishop Juan de Zumarraga, who asked for proof in exchange.
Juan Diego went back later and saw the lady again. He told her that the bishop wanted proof, and she instructed Juan Diego to go to the mountain top, where he found Castillian roses,[2] which were native to Bishop Juan de Zumarraga's hometown and could not possibly bloom during wintertime. Juan Diego cut the roses, placed them in his apron-like tilma and returned to the bishop; an imprint of the Blessed Virgin Mary appeared on the tilma from the residue of the soil and roses.
Today, the icon is displayed in the nearby Basilica of Guadalupe, now one of the most visited Catholic shrines in the world.[3] The Virgin of Guadalupe is Mexico's most popular religious and cultural image, with the titles "Queen of Mexico",[4] "Empress of the Americas",[5] and "Patroness of the Americas".[6] Both Miguel Hidalgo (in the Mexican War of Independence) and Emiliano Zapata (during the Mexican Revolution) carried flags bearing the image of Our Lady of Guadalupe, and Guadalupe Victoria, the first Mexican president, changed his name in honor of the icon.
Following the Spanish Conquest in 1519–21 a temple of the mother-goddess Tonantzin at Tepeyac outside Mexico City was destroyed and a chapel dedicated to the Virgin built on the site. Newly converted Indians continued to come from afar to worship there. The object of their worship, however, was equivocal, as they continued to address the Virgin Mary as Tonantzin.[15]
The first record of the painting's existence is in 1556, when Archbishop Alonso de Montufar, a Dominican, preached a sermon commending popular devotion to Our Lady of Guadalupe, a painting in the chapel at Tepeyac, where certain miracles had lately been performed. Days later he was answered by Francisco de Bustamante, head of the Colony's Franciscans and guardians of the chapel at Tepeyac, who delivered a sermon before the Viceroy expressing his concern that the Archbishop was promoting a superstitious regard for a painting by a native artist, Marcos Cipac de Aquino:
"The devotion that has been growing in a chapel dedicated to Our Lady, called of Guadalupe, in this city is greatly harmful for the natives, because it makes them believe that the image painted by Marcos the Indian is in any way miraculous."[16]
The next day Archbishop Montufar opened an inquiry. The Franciscans repeated their claim that the image encouraged idolatry and supersition, and testified that it was painted by "Marcos the Indian."[16] Appearing for the Dominicans, who favored allowing the Aztecs to venerate the Guadalupe, was the Archbishop himself. The matter ended with the Franciscans deprived of custody of the shrine[17] and the tilma mounted and displayed within a much enlarged church.[18]
The first extended account of the image and the apparition comes in Imagen de la Virgen Maria, Madre de Dios de Guadalupe, a guide to the cult for Spanish-speakers published in 1648 by Miguel Sanchez, a diocesan priest of Mexico City.[19] An anonymous Nahuatl language narrative, Huei tlamahuiçoltica ("The Great Event"), appeared at around the same time, probably written in 1649 by Luis Lasso de la Vega and based on Sánchez's narrative, which it closely mirrors. This contains Nican mopohua ("Here it is recounted"), a tract about the Virgin which contains the story of the apparition and the supernatural origin of the image, plus two other sections, Nican motecpana ("Here is an ordered account"), describing fourteen miracles connected with Our Lady of Guadalupe, and Nican tlantica ("Here ends"), an account of the Virgin in New Spain.
In 1935, Pope Pius XI declared Our Lady of Guadalupe to be the "Patroness of the Philippines".[1][58] In 1942, she became the secondary "Patroness of the Philippines" when Pope Pius XII installed the Immaculate Conception as the Principal Patroness of the Filipino people through the Papal Bull Impositi Nobis, though her feast day is still widely celebrated in the archipelago. Today, the Blessed Virgin Mary under this title of Our Lady of Guadalupe is especially invoked by the Catholic bishops and laypeople who oppose the legalization of abortion and the passage of the Reproductive Health Bill.
Pope John Paul II visited the shrine in the course of his first journey outside Italy as Pope from 26 to 31 January 1979, and again when he beatified Juan Diego there on 6 May 1990. In 1992 he dedicated to Our Lady of Guadalupe a chapel within St. Peter's Basilica in the Vatican. At the request of the Special Assembly for the Americas of the Synod of Bishops, he named Our Lady of Guadalupe patron of the Americas on 22 January 1999 (with the result that her liturgical celebration had, throughout the Americas, the rank of solemnity), and visited the shrine again on the following day.
On 31 July 2002, the Pope canonized Juan Diego before a crowd of 12 million, and later that year included in the General Calendar of the Roman Rite, as optional memorials, the liturgical celebrations of Saint Juan Diego Cuauhtlatoatzin (9 December) and Our Lady of Guadalupe (12 December).
INFORMATION OBTAINED FROM WIKIPEDIA WEBSITE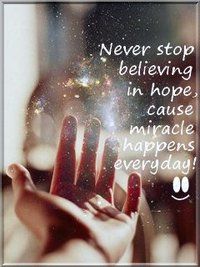 "The Mystery Of The Eyes"
From The Sancta.org website
According to many scientists who have inspected the image, it seems that in her eyes, in both of them and in the precise location as reflected by a live human eye, could be seen many figures that have been extensively analyzed and seem to correspond to the shape and size of human figures located in front of the image.
In 1929, Alfonso Marcue, who was the official photographer of the old Basilica of Guadalupe in Mexico City, found what seemed to him to be a clear image of a bearded man reflected in the right eye of the Virgin. Initially he did not believe what was before his eyes. How could it be? A bearded man inside of the eyes of the Virgin?. After many inspections of many of his black and white photographs he had no doubts and decided to inform the authorities of the Basilica. He was told that time to keep complete silence about the discovery, which he did. More than 20 years later, on May 29, 1951, Jose Carlos Salinas Chavez, examining a good photograph of the face, rediscovers the image of what clearly appears to be a bearded man reflected in the right eye of the Virgin, and locates it on the left eye too.
Since then, many people had the opportunity to inspect closely the eyes of the Virgin on the tilma, including more than 20 physicians, ophthalmologists. The first one, on March 27, 1956, was Dr. Javier Torroella Bueno, MDS, a prestigious ophthalmologist. In what is the first report on the eyes of the image issued by a physician, he certifies what seems to be the presence of the triple reflection (Samson-Purkinje effect) characteristic of all live human eyes and states that the resulting images are located exactly where they are supossed to be according to such effect, and also that the distortion of the images agree with the curvature of the cornea. The same year another ophthalmologist, Dr. Rafael Torrija Lavoignet, examined the eyes of the image with an ophthalmoscope in great detail. He observed the apparent human figure in the corneas of both eyes, with the location and distortion of a normal human eye and specially noted a unique appearance of the eyes: they look strangely "alive" when examined. Many other examinations by ophthalmologists have been done of the eyes of the image on the tilma after these first ones. With more or less details all agree with the conclusions of the ones mentioned above.
A new and interesting kind of analysis of the eyes started in 1979, when Dr. Jose Aste Tonsmann, Ph D, graduated from Cornell University, while working in IBM scanned at very high resolutions a very good photograph, taken from the original, of the face on the tilma. After filtering and processing the digitized images of the eyes to eliminate "noise" and enhance them, he reports he made some astonishing discoveries: not only the "human bust" was clearly present in both eyes, but another human figures were seen as reflected in the eyes too. Dr. Aste Tonsmann published his last studies on the eyes on the tilma in the book "El Secreto de sus Ojos", with complete details and photographs of his work . Perhaps one of the most interesting aspects of the studies is his conclusion that Our Lady of Guadalupe not only left us her miraculous image as proof of her apparition but some important messages too. These messages were hidden in the eyes on the image until our times, when new technologies would allow them to be discovered, when they are most necessary. That would be the case with the image of a family in the center of the Virgin's eye, in times when families are under serious attack in our modern world. The image of various human figures that seem to constitute a family, including various children and a baby carried in the woman's back as used in the 16th century, appears in the center of the pupil, as shown in this great image of the right eye highlighting the family, generously provided by Dr. Tonsmann.
One of the top 10 Elite, Original Metaphysical Sellers! We have been offering metaphysical services and items to clients for more than 25 years. We have over 1,000 happy internet clients, and many thousands of transactions and clients through the years. Before eBay and Etsy went public, we were there serving clients and spreading metaphysical awareness. We have been in the metaphysical industry prior to when it was possible to reach so many clients by internet! Let us help you help yourself to change your life for the better as well! Become another happy client!
We offer 100% Authentic Magick – we spell cast items, conjure spirits, offer healing and psychic services, and haunted artifacts from our travels. Haunted Paranormal & Occult is our life! We are here to answer questions and rehome spirits that are needing new masters. We specifically work with metaphysical practitioners and a conjurer that deals in summoning Illuminati owned spirits, getting them out of the hands of the most powerful and certainly already most fortunate, and into the mastership of those who they could be the most service to! We also offer at 100% FREE Paranormal, Spirit Keeping, Bonding & Communication FORUM for ANYONE to join and communicate with others of similar interests! Check it out and join the magick! You can click the link here or find it on the homepage of our website!
http://spiritsandmagick.forumotion.com/
Paranormal experiences occur in different ways and take different forms. We take a lot of pride in what we offer in our store. This is our life and we love what we do. We have been involved in the metaphysical field for many years, and we have established many great connections and relationships through our work that enable us to offer items from all over the world to you.
We would like to address that we are selling metaphysical items, and as such, much of our information is received by hearsay, folklore, mythological tales, and channeled information. As such, we will not be held liable for what does/does not happen after you have purchased one of our items. Our items are clearly labeled, "No Returns Accepted" because of the nature of the business we are in. When you purchase one of our items you are fully understanding this, and taking full responsibility for yourself and your purchase. "Magick" is different for each and every person, and the results you experience are different. Each one of us on this earth experiences the world differently, the same way we experience the metaphysical differently than one another. We are passing along and re-homing many spiritual companions, passing on and delivering to you channeled messages and hearsay regarding these spirits and/or haunted items, and we are not responsible for your experiences with them after that point and we are not responsible for the "validity" of the information. We do study and research as much as possible after we have received channeled information to decide whether or not it resonates with ourselves after we have received it. We ask that you do the same.
If it resonates with you, please purchase from us. If it does not, please do not purchase from us. There is no way for us to know whether or not our spirits and the information we have received is truth. We want to believe our spirits have told us and our friends the truth, but we are not "guaranteeing" any of the information we have provided.
Channeled information from any source be it spirits, extra-terrestrials, or humans, is exactly as we have stated – there is no way for us to verify truth from untruth, and so we just provide the information as we have received it. This is not a place for the skeptical, as magick has never and will never work for those who do not believe in it. It is as simple as that.
We feel we were called to do this job in this lifetime, and we ask that you buy from us accordingly as it resonates inside you.
Payments are accepted via Paypal and Amazon Checkout, as well as credit cards using the direct checkout on Bonanza. You may also choose to send a money order as payment. If you choose this method, you are required to send a confirmation and tracking code within 24 hours of making your purchase. All purchases with Money Order as the chosen method, that have not sent confirmation of payment within 24 hours, or have otherwise spoken to me, will be terminated, and appropriate Bonanza feedback will be left.
Payments are due within 3 calendar days of purchase. If you have an extenuating circumstance, or are requesting a payment plan, please email us FIRST, before purchasing, to work this out. We do not allow payment plans without a substantial deposit placed on the item at the time the agreement is made. Substantial down payment is due via money order or cash, not using credit card methods. No exceptions will be made to that rule.
SHIPPING – We ship within 3-5 business days of your payment. Please note that we do not ship on weekends or holidays, so please take care to make your purchases within adequate time for you to receive it, especially during holidays. We usually ship First Class or Priority, and we do offer International shipping. If you need to receive an item quicker than 3-5 business days, please let us know and we will adjust your shipping cost to reflect an expedited shipping rate. This may not be available during Christmas season, as unfortunately, the post office will not guarantee how quickly items will arrive during the month of December.
The cost of shipping internationally is different than the cost for shipping in the United States. We do try to ship using First Class whenever possible, as the cost is lower. Please remember when we are sending items outside of the United States, we are not responsible for any customs delays, or custom fees that may occur. Although seldom, it does happen. We occasionally have issues with the postal service due to natural disasters and holidays, so please plan your shopping accordingly if you are on a tight time frame. We will NOT lower the value of the package to accommodate the chance of imposed customs fees.
Please Note: Some of our magickals are custom cast and/or created and crafted AFTER your purchase. Most are pre-cast/conjured and ready for Immediate shipment. Custom conjures and certain spells can take up to 14 days or more to complete. Please be aware of this. If this item will take longer to deliver to you, the listing will be noted as such!
COMBINED SHIPPING DISCOUNT: We will combine items at no extra charge when paid for together in one invoice at check out, as long as the packaging will allow us to do so. Save Money when you buy more. Please email us when you are finished purchasing so that we can combine your invoice for you.
SPECIAL NOTES REGARDING INTERNATIONAL SHIPPING: The United States heightened their security measures for packages shipped overseas on November 18, 2010. This has slowed down shipping times tremendously. Packages that used to take 7-10 days can take up to 4-6 weeks. Canada, Australia and the UK are particularly slow. We don't have any control over this, so please be patient if your package takes longer than expected. Shipping Priority or Express often ensures that it will be delivered within 3 to 10 days. If you need an item shipped via Priority or Express Mail, fees are in excess of $20 starting, but please contact us immediately after you purchase, and before paying, so we can send you an adjusted invoice to accommodate the change in shipping cost. Delivery Confirmation is NOT actual Tracking nor is the International Custom Form number. These numbers are scanned in at time of mailing confirming the Post Office has the package and usually scanned again at the main mail sorting plant near here—AFTER that they do NOT usually update until AFTER delivery. If you wish true constantly updated tracking we can add that for an extra charge but it is very expensive.You will generally receive an automated email from Paypal when your item is shipped. If you feel that you must be able to track the package, you will need to pay for the more expensive shipping method. This is very expensive, but is your only way of ensuring that you know your item is safe. Unfortunately, with the issues in each country, we cannot guarantee, that after an item leaves the United States, it will arrive to you without interference. The post office, and ourselves, have had countless debates over this. They also have issues with countries charging their citizens extra customs fees randomly, this is also something we have no control over, and although it is only occasional, it is something that we cannot expect nor guess about.
PLEASE NOTE THAT AS OF OCTOBER 15TH WE HAVE SEEN SERIOUS DELAYS IN THE DELIVERY OF OUR PACKAGES TO AFRICAN COUNTRIES. ON AVERAGE, OUR CUSTOMERS HAVE RECEIVED THEIR PACKAGES 4-6 MONTHS AFTER WE SHIPPED THEM OUT. We let our customers and clients from international countries beware that there is nothing we can do to expedite your package delivery after it has left the USA borders. We will not refund you on international packages that have not been received once they have been shipped by us. To date, everyone has received their packages, but the rate of delivery varies significantly between countries. We also cannot account for packages that go missing in foreign countries. Unfortunately, not all countries have as strict legal ramifications for package theft as the USA. Many of our magickals are one of a kind, and for those that are not, or items we have more than one of, etc., we will not send another package out just because you have not received the first package. You assume the risk of purchasing Internationally, and we do our due diligence by providing evidence that we have shipped your package.
NO LAYAWAYS ARE BEING OFFERED AT THIS TIME.
A Word About Magick:
Due to the nature of our business, we do not accept returns or give refunds. We try to never make mistakes on our shipments, but if for some reason we have sent you an incorrect item, please let us know right away so that we may correct that error.
REFUNDS: All sales are final. The only time we ever offer a refund is if the item has arrived damaged. This rarely occurs, but if it does, we require that our clients email us a picture of the damaged item, and upon our receiving the photo and deeming that it is, in fact, damaged in transit, we will require that the buyer return the damaged item to us, at the cost of the buyer. Once we are in receipt of the item, we will then return your purchase price, minus the shipping cost.
We are very strict about our NO RETURNS ACCEPTED policy, as well as have added this disclaimer so that you are fully aware that when you purchase from us, you are releasing us from any liability associated with your purchase, our items, and by purchasing from us, you have agreed to our policies as stated above.
LEGALLY REQUIRED DISCLAIMERS:
Sold As A Curio Only…Please Read the Disclaimers below!
Disclaimer:
Pursuant to the current United States Postal Service regulations and other Country, State, City and/or Federal and/or other nation's laws we must state all items on this site are sold "for entertainment purposes only". We must advise all products are "Sold as Curios Only" All information herein is from traditional or historical reference and intended to help you make an informed decision.
FOR ENTERTAINMENT PURPOSES ONLY-WE CANNOT GUARANTEE THE LEVEL OF PSYCHIC OR PARANORMAL ACTIVITY THAT MAY OR MAY NOT OCCUR. NOT RESPONSIBLE FOR MISUSE OF THIS ITEM OR IT'S POWERS-NOT A SUBSTITUTE FOR MEDICAL TREATMENT-LEGAL ADVICE, ETC. PLEASE SEE A DOCTOR FOR HEALTH PROBLEMS AND THINK POSITIVE-VISUALIZE YOUR HEALING-REMEMBER MODERN MEDICINE IS A MAGICK OF SORTS, TOO. BUYERS MUST BE OVER 18 YEARS OF AGE.
---
The above statements are LEGALLY REQUIRED in some locations and should not reflect on our dedication to service and genuine quality products and services.
Our email address is MoondancerOriginals@yahoo.com
Our hours online are random, and we do our best to respond to all messages in the order in which they are received. We have become very busy, but your messages are important to us. Please allow 24-48 hours for a reply, but should you not hear from us, please email again in case we have overlooked you! It most likely was not intentional, but unfortunately, we cannot do more than one thing at once and sometimes we get behind.
We have several online stores and may offer different items in each site. Please feel free to browse all of our locations to get the best deals and pricing. Some discounts and pricing options are special offers exclusive to the site, and are not transferable. All items and prices are subject to change without notice and are not valid retroactive of a purchase.
If you are expecting instructions on using an item, meaning, if in the listing it denotes that you will receive instructions, they will be sent AFTER you receive the package safely. This is so we can maintain our communication with you, and know that you received the package. We do this for the safety of alchemical information and your own confidentiality.
Look for us on: Facebook, Twitter and MoondancerOriginals.com
Moondancer Originals text, photographs of items or services, logo and all listing descriptions, written experiences and testimonials, are plagiarism protected and are Copyright material. Use of any Moondancer Originals material is considered copyright infringement, and is prohibited by law without written permission from a Moondancer Originals representative.
txzj pxzj1277 txzj67