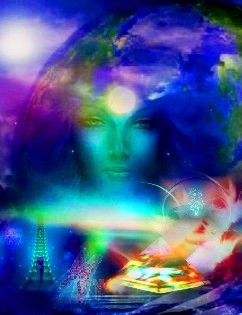 Call On The Imbued Spirit of the Goddess Ishtar in Your Times of Need
Ishtar is the Babylonian Goddess of love and war, embodied in the two aspects of the planet Venus. As Evening Star, She brings lovers to celebration and bed; and as the Morning Star, She brings the fiery sword of War. She represents one of the many faces of the ancient near eastern Great Goddess.
As Goddess of love and sex, Ishtar is the force that draws mates together and brings fertility, both for humans and animals. She is Goddess of courtesans, and She Herself took many lovers.
As Goddess of war, Ishtar takes part in battle and is shown standing on the back of a lion bearing bow and arrows. She was known for a fiery and fickle temper which usually spelled doom for Her lovers.
This ring will be your personal connection and link to the Goddess Ashtar! Call on her to smooth bumps in your relationship, draw luck, prosperity and abundance to you, make your love stronger, bring happiness, heal relationships, persuade people, enhance sexual appeal and emotions, increase your sex experience, learn to love yourself and others, learn forgiveness, and more!
She will help you and teach you! She is a wonderful teacher and healer and can work with a man or woman!
And the best part is that all the work has been done for you! All you have to do is wear the ring and ask her to help you when you need it!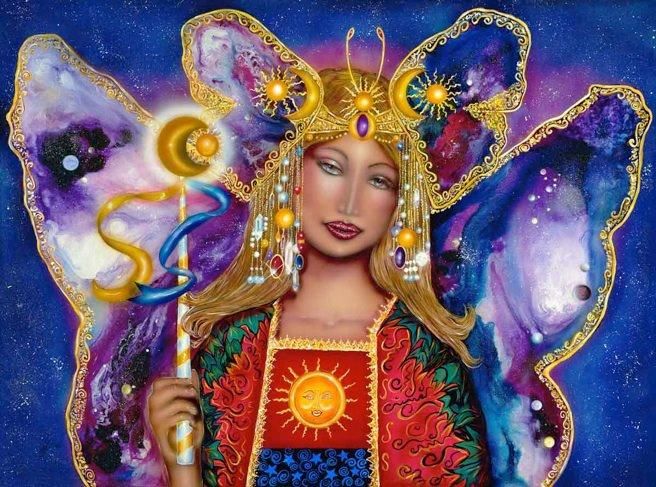 One of Ishtar's lovers was the grain God Tammuz. He died young (as the grain is cut just as it reaches the perfection of ripeness), and some legends imply that Ishtar had a hand in His death. But Ishtar was inconsolable and determined to fetch Him back from the Underworld. At each of the seven gates of the Land of the Dead, Ishtar, like Inanna, was required to give over an article of clothing or jewelry until finally She came naked and humbled before Her sister Queen Ereshkigal, Who then imprisoned Ishtar.
The world mourned for the lost Goddess of love, and Her father Sin the moon God sent an envoy armed with powerful magic which successfully rescued Her. Tammuz was eventually also brought back to live in the land of the Gods. The descent of Ishtar was celebrated annually in Babylonian lands.
Goddess Ishtar is a Babylonian Creator Goddess. A multidimensional aspect of the Divine Feminine, Ishtar has many titles, some of which include the Giver of Light, Opener of the Womb, Lawgiver, and Lady of Victory. She is associated with the Greek Goddess Aphrodite, the Assyrian Goddess Astarte and Inanna is considered Ishtar's Sumerian aspect.
Ishtar is the Remembrance of the Goddess Self, the Remembrance of the Divine Self. She is Queen of Heaven, the morning star, the evening star, the shining star of Venus. She is also the Queen of Earth, the fertility and the abundance of life. Ishtar is both Warrior Goddess and Goddess of Love.
As Warrior Goddess, Ishtar is a powerful protectress, triumphant, victorious, confident and courageous. She provides protection within Her radiant Light, providing shelter within Her tremendous strength and courage so that we may once again realize the strength, courage, peace and empowerment within the remembrance of our Divine Truth. She reminds us that Divine and True Power does not strive to conquer and control, rather its purpose is pure in promoting empowerment and vibrates with the integrity of empowered grace.
A Divine Champion of Remembrance, Ishtar lends Light, Courage and Guidance within the personal journey to triumph over the shadow self. Her steadfast love, courage and radiant light supports this journey, enabling us to fearlessly face the shadows of illusions, to courageously face the shadow self. Enabling the shedding of the layers of fear based beliefs, until everything superficial has been stripped off, shedding the fears of the shadow self, discarding the veils of illusions so that we are reawakened within the illuminated, pure, enlightened essence of our True Essential Self.
Goddess of Love, Ishtar is the Shining Star of Venus. She is the Remembrance of the Pleasure and Beauty of Woman. She is the Remembrance of the Ecstasy of Being. Within this aspect, Ishtar assists in reawakening our natural sensuality, providing an invitation to embrace our sexuality as a sacred and divine expression. The Lady of Love celebrates Woman as Goddess, celebrates every expression of woman as beautiful and divine. Ishtar helps us all to remember that we each are the expression and embodiment of Divine Love.
As Warrior Goddess, Lady of Love and as Divine Healer, Ishtar helps us to heal the wounded aspects of self. Assisting us to honor our experiences, to transcend the pain and heal the wounds, guiding us to recognize and integrate the valuable lessons presented through our experiences, enabling the triumphant ascension into a healed and higher vibrating awareness.
As The Queen of Earth, the fertility and abundance of Life, Ishtar is the essence of supply. She is the reminder that we are aligned with the Infinite Source of Life, and that our true and natural state of being is fruitful, prosperous and plentiful. Ishtar invites us to recognize, honor and enjoy the rich rewards of Mother Earth.
Within all Her combined aspects, Ishtar promotes the energy of Divine Discernment, naturally and innately knowing when to be flexible and when to be steadfast. Providing the courage, confidence and the awakened awareness to be assertive when a situation calls for it. As well as being able to discern when diplomacy and compromise would best serve the highest good. Within the balanced, awakened awareness of our Higher Enlightened Self, we are never threatened by the need to be assertive nor are we ever threatened when we are called to compromise.
Ishtar is associated with several animals, including lions, winged lions, doves, snakes and scorpions. She is aligned with the moon/crescent moon, with stars and with Venus. A coned shaped crown topped with an array of stars is symbolic of Ishtar's status of Queen of Heaven and Queen of Earth. Lapis is sacred to her, and other associations include veils, exotic dance, light and illumination and the magical tree of life.
Goddess Ishtar was a prominent expression of the Divine Feminine within all periods of ancient Mesopotamia. Timeless and eternal, Ishtar's energy remains current, continuing to provide platforms of empowerment and remembrance, providing the invitation to reawaken to the pure and divine pleasure of Being. Ishtar brings the gifts of courage, confidence and empowered grace and she lovingly provides shelter within her radiant light to any and all who call upon her.
Copyright © 2009 Rhiannon Barkemeijer de Wit
Moondancer Originals only accepts PayPal for ease of use, safety, and security reasons. Please make all payments within 3 business days of committing to purchase an item. If you have an extraordinary circumstance please message us to let us know what is going on, and when you will be able to purchase the item, and each case will be looked into on an individual basis. If we do not allow you to extend the payment deadline, please understand that it is not personal, rather just trying to efficiently run our business. Please note that we do have to wait for some payments to clear before sending out.

Only bid if you are seriously intending to make this purchase. Due to the high number of non-paying bidders, we do have to restrict bidding to those who have an account that is currently in compliance with bidding and purchasing policies. It is nothing personal, and if you are not allowed to purchase, please work to get your account back into compliance and then come shop with us once more!

If you do not pay for your item within the payment deadline, we will send you one reminder, and then we will open a non-payment case against your account and leave you negative feedback. We try to avoid leaving negative feedback at all costs, as this will seriously hinder your ability to purchase other items down the road from other sellers, but we will be forced to initiate this process should you choose not to pay for items you have committed to buying in an attempt to help all sellers lessen the rapidly growing non-payment issue and protect our businesses.
We ship to the USA and Internationally. We do not ship on holidays or weekends. Please keep in mind that all payments must clear before we are able to send your item out. We will mark the item as shipped within the transaction, so please be checking your account for updates.
Due to the nature of our business, we do not accept returns or give refunds. We try to never make mistakes on our shipments, but if for some reason we have sent you an incorrect item, please let us know right away so that we may correct that error.
Paranormal experiences occur in different ways and take different forms. We take a lot of pride in what we offer in our store. This is our life and we love what we do. We have been involved in the metaphysical field for many years, and we have established many great connections and relationships through our work that enable us to offer items from all over the world to you.
Please feel free to email us at anytime regarding questions you have about our items, or advice you need about purchasing an item, etc. Please understand that we try to respond to all messages we receive within 48 hours, but we do receive a high volume of emails and try to respond to them in the order in which they have been received.
We tend not to respond to messages on holidays or weekends, but occasionally we have found ourselves so committed to our work that we have worked through the weekend responding to messages and helping our customers. This just depends on our work load, so please do not be offended if you should not receive a response until the following business day.
We are very passionate about our work. Please let us know how our items have changed your life. Feel free to message us and give us feedback down the road so we can add it to our client testimonials, and more importantly, so we can continue to positively affect the lives of our clients.

As per Legal requirements: We are required by law to state that anything we sell is for entertainment purposes only. We are not responsible for anything that happens once the buyer takes ownership of any of our items. You must be at least 18 years old to make purchases on this site.
Purchases made of products and/or services are done at your own risk. We are not responsible for misuse of any of the items from our store and those items/services should not be used in lieu of professional, legal, medical, financial or psychiatric advice or care.
Moondancer Originals text, photographs of items or services, logo and all listing descriptions, written experiences and testimonials, are plagiarism protected and are Copyright material. Use of any Moondancer Originals material is considered copyright infringement, and is prohibited by law without written permission from a Moondancer Originals representative.
We would like to address that we are selling metaphysical items, and as such, much of our information is received by hearsay, folklore, mythological tales, and channeled information. As such, we will not be held liable for what does/does not happen after you have purchased one of our items. Our items are clearly labeled, "No Returns Accepted" because of the nature of the business we are in. When you purchase one of our items you are fully understanding this, and taking full responsibility for yourself and your purchase. "Magick" is different for each and every person, and the results you experience are different. Each one of us on this earth experiences the world differently, the same way we experience the metaphysical differently than one another. We are passing along and re-homing many spiritual companions, passing on and delivering to you channeled messages and hearsay regarding these spirits and/or haunted items, and we are not responsible for your experiences with them after that point and we are not responsible for the "validity" of the information. We do study and research as much as possible after we have received channeled information to decide whether or not it resonates with ourselves after we have received it. We ask that you do the same. If it resonates with you, please purchase from us. If it does not, please do not purchase from us. There is no way for us to know whether or not our spirits and the information we have received is truth. We want to believe our spirits have told us and our friends the truth, but we are not "guaranteeing" any of the information we have provided. Channeled information from any source be it spirits, extra-terrestrials, or humans, is exactly as we have stated – there is no way for us to verify truth from untruth, and so we just provide the information as we have received it. This is not a place for the skeptical, as magick has never and will never work for those who do not believe in it. It is as simple as that. We feel we were called to do this job in this lifetime, and we ask that you buy from us accordingly as it resonates inside you. We are very strict about our NO RETURNS ACCEPTED policy, as well as have added this disclaimer so that you are fully aware that when you purchase from us, you are releasing us from any liability associated with your purchase, our items, and by purchasing from us, you have agreed to our policies as stated above.
txzj pxzj1277 txzj67