Description


Hello and welcome friends! Thank you for visiting this auction.
You have come to witness and see the collection we have received from our friend Sri Baba Lanka III and we are so proud to be offering! His conjurations are some of the most exquisite that you will ever see offered.
He, Sri Baba Lanka III, is an incredible expert at conjuring some of the most potent and influential genies that are gracing our realm with their presence. For years he has worked to perfect his communication, channeling, meditating and conjuring to the point where he is able to summon some of the most high and persuade them to take on new masters! He has successfully summoned many genies that belonged to Illuminati Families, Freemasons, Elite Secret Society genies, and those of International leaders and royalty!
We are so proud to be able to offer them to our wonderful clients! There are many out there who can successfully summon, conjure and bind jinn. However, there are only a few that can summon the highest caliber and most historical of jinn. Sri Baba Lanka III from Norway is one of those few. We are proud to have him as one of our companions and friends working in the light of the good. The first thing that you must know is that it does not happen by any coincidence that you are reading this. You are here only because you were meant to be here.
This spirit tribe has come to us from Sri Baba Lanka III who is a longtime friend of ours and is currently living near Norway. He has lived many places in his lifetime, and we are fortunate to be in constant communication with him. He is not only an expert conjurer, but has spent a good share of his life researching the "Djinn" and has had many experiences with them that he has personally shared with us.
He has travelled to the caves where they are residing, he has meditated to their dimension and actually has been shown their dimensional existence by one of his spiritual guides who happens to be a jinn. He has been blessed with an incredible abundance of information about this spiritual class, and has even been able to successfully channel their messages on several occasions.
Although he has studied and is a firm believer in many types of spiritual entities, he is incredibly connected to the Jinn race and believes that he was meant to be here in this human body to be a testament to the Jinn's existence. There has been wide speculation in parts of the world, not in the Middle East, for they have embraced the existence and have even noted things to do with the Jinn in their Quran, but should be say, other parts of the world, have long questioned the Jinn and their existence.
Our friend, Sri Baba Lanka III would like us to always provide his testament that they are real, they exist in a dimension higher than ours, the fifth and higher to be exact, and that they can and do come here to help us, some bind willingly to objects that allow them to stay and be a spiritual aid to a master or human companion, and others do in fact come in and out of our dimension to cause hindrances to the human race.
He also has assured us that he does not bind any hindrance or negative jinn to items he sends to us to rehome to our clients, and that he knows these types of jinn exist and so he must always be careful, much in the same way that we are careful about who our friends and confidants are here in the human realm.
We have the same issues they have. Some people are of the light and some are of the dark.
We have to decipher that much in the same way as they do.
However, he has told us, never have fear, as he will not send us any of the dark.

There are no secrets, no coincidence that members of the Illuminati, Secret Society members, Freemasonry Members, and other influential groups in our world have ties that date back to these groups. When you associate with this company, you are let into the secrets that influence the world, run the world, and ultimately, dictate our everyday lives. The secret has been slipping out though, to those of us who are blessed enough by our spiritual guides, to include us and let us know that the key lies in the companionship that COULD NOT be seen. Their spiritual companions helped them become who they were! Now you too can be let in on that secret!
Freemasons are some of the most talked about of the secret societies. There have been thousands of books written about their secret organization, and their original origin remains shrouded in mystery and multiple theories. The term "freemason" most likely came from the French term, franc-macon, meaning a mason who had been independently contracted to work on a church property, and was granted to be "free" from taxation and other regulations. They were later called "freemason."
Now, one of the most widely seen traditions of the Freemason have been their lodges, which most of us can easily locate still, today, in our own communities. Hence, although these lodges may be made up by many people, they are of the lower levels of the organization, thus do not come into contact with the higher parts of the Freemason establishment, nor ever know anything about the agenda of those at the highest levels. The tradition of building a "lodge" was one that was started early on, when the Freemason would get together and construct a lodge where they could meet, eat, and stay while they were working on a project. Modern day Masonic Lodges and Temples are everywhere!
According to author Sylvia Browne's spirit guide Francine, "Freemasonry began as an added protection to ensure that workers employed by the Catholic Church would keep quiet about the centuries old secrets they happened upon. She says that although the society didn't originate in Egypt, knowledge of ancient Egyptian and Persian mysteries was absorbed by masons who worked in those areas. While building their temples, mosques and coptic Churches, these laborers became acquainted with many priests, architects, and scholars who possessed lots of hidden knowledge - including certain building secrets as well as other esoteric information which was passed on to fellow masons."
Her spirit guide went on to explain to her that the Freemason took all of their knowledge and put them into what we might call categories, and topped everything off with pomp and ceremony by instigating rituals for each level of knowledge, as well as an initiation ceremony. They then adopted a hierarchy of knowledge that coordinated with their level of achievement within their organization.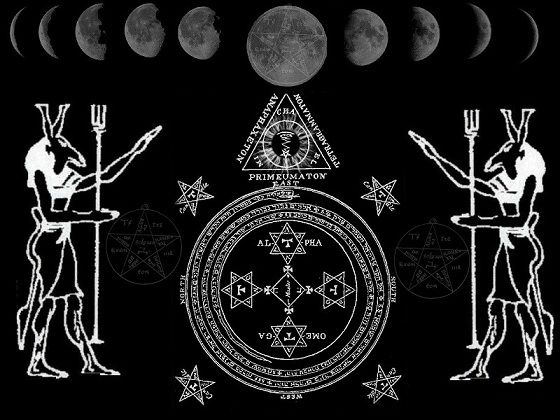 The First Grand Lodge of Freemasonry was erected in London in 1717. They were later known as the United Grand Lodge of England. Requirements to become a member of Freemasonry are not too harsh, and require that you then obtain reference from at least two other current masons. Once you join, you start as a first degree member. Occult like ritual and initiations are present in every degree. To become a master mason, you must take yet another oath, this time stating a close rendition of the following -
"I most solemnly and sincerely promise and swear that I will always hail, ever conceal and never reveal, any of the arts, parts, or points of the hidden mysteries of ancient Freemasonry. All this I most solemnly, sincerely promise and swear with a firm and steadfast resolution to perform the same, without any mental reservation or secret evasion of mine whatever binding myself under no less a penalty than that of having my throat cut across, my tongue torn out by its roots, and buried in the rough sand of the sea at low water mark where the tide ebbs and flows twice in 24 hours, should I ever knowingly or willingly violate my solemn oath and obligation as Entered Apprentice Mason. So help me, God."
Members of the Illuminati make up the 13 wealthiest families in the World! They have produced families of Presidents, Leaders, Military Leaders, Business Owners and more! They are behind many of the decisions that are made in the world. Their power is in their secrets. Their secrets are occult rituals and magick, spiritual companions, etc. Their powers have been unsurpassed! Except, of course, by the spiritual companions that served them. Make the choice now to be their next master! They will choose to call to you, so if you feel compelled to be here, you will know why!
The Deeper, Secret Roots of America's Founding
© 1994 Corinne McLaughlin and Gordon Davidson
The most intriguing hint about the secret, metaphysical dimensions of the founding of America is not actually hidden at all--in fact it can be seen in millions of places today--on every one dollar bill, which displays the reverse of the Great Seal of the United States. Here is the All Seeing Eye of God or Spirit, placed above a pyramid--a symbol representing spiritual vision that is found in many secret societies, including the Rosicrucians and the Freemasons.
The pyramid was used by some ancient cultures, such as the Egyptian and the Mayan, as an initiation chamber. The All-Seeing Eye seems to be placed as a capstone at the top of the pyramid. If you stand at the base of the pyramid, there are many different viewpoints, depending on which of the four sides you are standing on and looking out from. But at the top, all the viewpoints unite, because there we see with the Eye of Spirit. What an important message for us today! The various religious and political groups stand at the base of each side of the pyramid, fighting for their limited view, when they need to climb higher to see the more inclusive, higher vision from the top—the radiant Eye of Spirit.
The reverse of the Great Seal was minted in 1789 but it wasn't used until 1933 when President Roosevelt put it on the dollar bill at the urging of Secretary of Agriculture Henry Wallace, who was a follower of Nicholas Roerich, founder of the Agni Yoga Society. The first Congress appointed Thomas Jefferson, John Adams and Ben Franklin to design this Seal, and major revisions were added by Charles Thomson and William Barton. The United States is the only country today with a two-sided national seal. Isn't it time to pay more attention to what's on the reverse of this Seal? It's a powerful symbol of the soul of America.
Several intriguing Latin phrases can also be found on the Great Seal and the dollar bill: Annuit Coeptus ("God Fa­vors our Undertakings") and Novus Ordo Seclorum ("The New Order of the Ages"), as our Founding Fathers were visionaries planning for a new age. E Pluribus Unum ("Out of Many, One") not only reflects the unity of the original thirteen states, but on a deeper level reflects the One Life, the Divine Presence, which pervades all life and creates unity in diversity.
The eagle on the front side of the Seal represents spiritual vision as the eagle is the only creature which looks directly into the sun. In one foot the eagle holds a sheaf of arrows, symbol of war, and in the other the olive branch of peace. Unlike in traditional heraldry, the bird looks to the West, to peace, rather than to the East and to war.
The number thirteen is used thirteen times in the Great Seal--in the number of stars, clouds around the stars, stripes, arrows, leaves and berries in the olive branches, feathers in the tail, layers of stones in the pyramid, number of letters in E Pluribus Unum and in Annuit Coeptus, and the number of letters (three times thirteen) in the title: "The Coat of Arms of the United States of America."
Thirteen is not only the number of the original colonies, but more significantly is the number of transformation, as it adds the catalyzing number one to the completed cy­cle of the magical twelve—for example, the twelve disciples plus Christ, the twelve signs of the zodiac plus the sun, the twelve knights of the round table plus King Arthur. For better or worse, the United States has had a major trans­forming role in the world--sometimes positively, as with her exportation of democracy, and sometimes negatively, as with her exportation of an exces­sively materialistic life-style.
Francis Bacon
The seeds for America's founding were planted much earlier by the wise initiates of many cultures, from ancient Egypt and Greece to latter-day England and France. Francis Bacon wrote of America before its founding as "the new Atlantis" in his book by that name. He was also a member of the company that founded colonies in Virginia and the Caro­linas.
Bacon, known as the "Father of Modern Science," is thought by many researchers to be the founder of modern Freemasonry and the head of the Rosicrucian Order, a secret metaphysical society which taught the inner laws of nature, spiritual principles for self-transformation, and keys for creating a better world.
George Washington
The role of Divine guidance in America's founding was acknowledged by George Washington himself in his first inaugural address: "No people can be bound to acknowledge and adore the Invisible Hand which conducts the affairs of men more than the people of the United States. Every step by which they advanced to the character of an independent nation seems to have been distinguished by some token of Providential agency."
Washington believed he was constantly guided by higher sources in direct­ing his troops to outsmart the British. He was often called clairvoyant be­cause it seemed he could look into the future and predict troop movements with amazing accuracy. According to a report by Anthony Sherman, who was with Washington at Valley Forge where the incident occurred, Washington had a vision of an Angelic presence. He was shown the birth, progress, and destiny of the United States in three great crises where enemies within and without challenged the Union, but it persevered. He was told that "while the stars remain and the heavens send down dew upon the earth, so long shall the Republic last. The whole world united shall never be able to prevail against her. Let every child of the Republic learn to live for his God, his land, and the Union."
Thomas Jefferson and John Adams
There are many intriguing hints that Thomas Jefferson was a Rosicrucian (the Brotherhood of the Rosy Cross) as evidenced by a secret code he used that was known only to high initiates of the order and the fact that he designed the building of the University of Virginia in a pattern relating to a Kabbalistic metaphysical design. Letters
John Adams's forebears in England were said to belong to a sect of English Druids called the Dragons, which also included Sir Walter Raleigh and John Dee, Queen Elizabeth's astrologer. The Dragons sought to renew the ancient wisdom of earth energies and studied the astrological procession of the equi­noxes.
Benjamin Franklin
Benjamin Franklin published an astrological ephemeris in his Poor Richard's Almanac and wrote an epitaph that seems to suggest he believed in reincarnation: "The Body of B. Franklin, Printer ... lies here, food for worms, but the work shall not be lost; for it will appear once more, in a new and more elegant Edition, Revised and corrected by the author."
Franklin also published the books of Johann Conrad Biessel, who founded Ephrata in Pennsylvania, the first Rosicrucian community in the New World. Franklin visited there frequently and brought gifts. This commu­nity was a focus for the spreading of the Ageless Wisdom in America, and after its disbanding, most of its metaphysical library passed into Franklin's keeping. George Washington was also a friend of the community and re­leased a prisoner at the request of one of its leaders, Peter Miller.
In addition, Franklin spoke of the "Father of Lights," as the Rosicrucians do, and his speech to the Continental Congress reflects other Rosicrucian themes: "God governs in the affairs of men. If a sparrow cannot fall to the ground without His notice, is it probable that an empire can rise without His aid?" Some researchers believe that Franklin himself was secretly a Rosicrucian.
The Freemasons
At least fifty out of the fifty-six signers of the Declaration of Indepen­dence, including John Hancock, Benjamin Franklin, and Thomas Jefferson, were Freemasons. Franklin and Jefferson had both been ini­tiated into a French Masonic lodge, and Washington was initiated into the Masonic Lodge of Fredericksburg, VA. At the time of America's founding, the Masonic lodges were very different from the social clubs they've become today. They had a strong metaphysical orientation, which developed common values and purposes among members, as well as deep bonds of loy­alty. The tradi­tional secrecy preserved in Masonic lodges allowed members to communicate and organize the American Revolution with little fear of exposure. Several significant non-American contributors to the revolution were also Masons, such as the Marquis de Lafayette of France
The Boston Tea Party was the work of the Masons of the St. Andrews Lodge while tak­ing a "recess." Paul Revere began his famous ride after he left an adjourned meeting of a Masonic lodge. Through the lodges of the Freemasons, the ideas of such Age of Enlightenment thinkers as John Locke, David Hume, Francois Ma­rie Arouet (Voltaire), and Jean Jacques Rousseau became widely dissemi­nated in the new colonies. The structure of the U.S. Constitution was based on Masonic ideals, and the federalism created by the Constitution is identical to the federalism of the Grand Lodge system of Masonic govern­ment created in 1723, as well as to that of the Iroquois Confederacy.
The cornerstone of the U.S. Capitol Building was laid in a Masonic ceremony, with George Washington presiding as Grand Master. Masonic architects also laid out the city of Washington, D.C., in a meta­physical design to make the best use of the earth energies-called "ley lines," or "dragon lines," for creating healing or harmony. The original de­sign of Pierre-Charles L'Enfant was later modified by Washington and Jefferson to produce the specifically octagonal patterns incorporating the particular cross used by the Masonic Templars.
Just as ancient sites such as Stonehenge are aligned to the positions of the sun and moon, the same is true of the Washington Monument. For example, a line of sight for the winter solstice can be established from the top of the monument to the southeast, down Virginia Avenue. Since the physical pattern of Washington is based on sacred architecture, could it not inspire future leaders to base policies on sacred principles of governance based on the Ageless Wisdom?
The Future
The metaphysical traditions studied by our Founding Fathers enlightened their efforts to create a new government, and were the deeper, secret source of their wisdom and inspiration. Today this ageless wisdom is no longer secret and is widely available. Could knowledge of the metaphysical sciences help enlighten our efforts today to create a better world? Could it help us learn to actually embody "E Pluribus Unum"—"Out of Many, One" by creating a true unity in diversity? And most importantly, can we allow the All Seeing Eye of Spirit to guide our national life as our Founding Fathers (and Mothers) did?
Note About Jinn Spirits: They have the powers to grant unlimited wishes, to serve you in any way you wish, to protect you and your family, and any others that you ask them to protect! They are your guardians and they will help you with your spiritual development as well! You will need to recharge this vessel by moonlight, once a month or so. You will receive their tribe name and bonding instructions via email.
They will come and go from their vessel, and will come with you during the day often to watch over you and protect you from harms way! In addition, many of the jinn are also shape shifting spirits, so if you see a particular animal watching you from a distance, or appearing at your side, you will know it is just one of them that left their vessel to watch you!
IF YOU FEEL COMPELLED TO DO A BIT MORE RESEARCH REGARDING THE FREEMASONRY, SO YOU FEEL YOU CAN HAVE A TOTAL GRASP ON WHAT THAT SECRET SOCIETY WAS, BEFORE DECIDING IF YOU WOULD LIKE TO ADOPT AND BE THE NEXT MASTER OF A TRIBE THAT WORKED DIRECTLY WITH THEM, GRANTING THEIR WISHES AND PROTECTING THEM FOR YEARS AND YEARS GO AHEAD AND DO YOUR RESEARCH.
Jinn are incredibly skilled at helping grant wishes, so yes, it's somewhat true, "the genie in the bottle" concept. What isn't true, is that they can just grant 3 and then want to be released. They are not STUCK in this vessel. They have chosen to work directly with a human master. They know that their work can improve lives, and they like being here on our realm. Without being bound, they would only be able to pop in, but not to stay.
In this Arabic gemstone purse vessel, with multiple gemstones of many different colors, a tribe is bound with 17 jinn spirits of both male and female sex. These spirits have come from the Ifrit family, and are quite subtle as a family. These are not big on making a lot of noise in your home, so if you are new to spirit keeping, they may be good for you.
They range in age, but average about 1900 years old, and encompass a few different families within their familial clan - mother, father and child. They are believers in Allah, and as such, are worried about their final judgment day, so you can rest assured that they will make choices for you and your family that are only within the scope of what would be beneficial to you.
That does mean, however, that if they feel that granting a particular wish of yours is not within your best interests, they may choose not to bestow you with that gift. These spirits are good with children and pets, so don't be worried!
This tribe claims to have served two founding fathers and their families, before serving countless others from down the lineage. In the last 30 years of so, they have chosen not to serve anyone, just living in their own dimension. However, when they heard from our spirit conjuror, Sri, they decided by voting, that they might want to serve another.
In addition, they told Sri the following -
"We wish to serve the less fortunate this time. We know we can do some good here once more. If you wish for riches, instead, wish for happiness, and good health, and good fortunes to come to you and those you love. Do that, and for every good thing we give you, give one good thing away. That's the best way to be. The way humans don't seem to understand naturally. We get it. They would be more at peace."
As always, make an offer on them if you wish to master them - it will, of course, be up to them if they agree to choose you. BUT, that's probably why you are here now anyway. Trust them, and trust your intuition.
Let it be.
One of the top 10 Elite, Original Metaphysical Sellers! We have been offering metaphysical services and items to clients for more than 25 years. We have over 1,000 happy internet clients, and many thousands of transactions and clients through the years. Before eBay and Etsy went public, we were there serving clients and spreading metaphysical awareness. We have been in the metaphysical industry prior to when it was possible to reach so many clients by internet! Let us help you help yourself to change your life for the better as well! Become another happy client!
We offer 100% Authentic Magick – we spell cast items, conjure spirits, offer healing and psychic services, and haunted artifacts from our travels. Haunted Paranormal & Occult is our life! We are here to answer questions and rehome spirits that are needing new masters. We specifically work with metaphysical practitioners and a conjurer that deals in summoning Illuminati owned spirits, getting them out of the hands of the most powerful and certainly already most fortunate, and into the mastership of those who they could be the most service to! We also offer at 100% FREE Paranormal, Spirit Keeping, Bonding & Communication FORUM for ANYONE to join and communicate with others of similar interests! Check it out and join the magick! You can click the link here or find it on the homepage of our website!
http://spiritsandmagick.forumotion.com/
Paranormal experiences occur in different ways and take different forms. We take a lot of pride in what we offer in our store. This is our life and we love what we do. We have been involved in the metaphysical field for many years, and we have established many great connections and relationships through our work that enable us to offer items from all over the world to you.
We would like to address that we are selling metaphysical items, and as such, much of our information is received by hearsay, folklore, mythological tales, and channeled information. As such, we will not be held liable for what does/does not happen after you have purchased one of our items. Our items are clearly labeled, "No Returns Accepted" because of the nature of the business we are in. When you purchase one of our items you are fully understanding this, and taking full responsibility for yourself and your purchase. "Magick" is different for each and every person, and the results you experience are different. Each one of us on this earth experiences the world differently, the same way we experience the metaphysical differently than one another. We are passing along and re-homing many spiritual companions, passing on and delivering to you channeled messages and hearsay regarding these spirits and/or haunted items, and we are not responsible for your experiences with them after that point and we are not responsible for the "validity" of the information. We do study and research as much as possible after we have received channeled information to decide whether or not it resonates with ourselves after we have received it. We ask that you do the same.
If it resonates with you, please purchase from us. If it does not, please do not purchase from us. There is no way for us to know whether or not our spirits and the information we have received is truth. We want to believe our spirits have told us and our friends the truth, but we are not "guaranteeing" any of the information we have provided.
Channeled information from any source be it spirits, extra-terrestrials, or humans, is exactly as we have stated – there is no way for us to verify truth from untruth, and so we just provide the information as we have received it. This is not a place for the skeptical, as magick has never and will never work for those who do not believe in it. It is as simple as that.
We feel we were called to do this job in this lifetime, and we ask that you buy from us accordingly as it resonates inside you.
Payment
Payments are accepted via Paypal and Amazon Checkout, as well as credit cards using the direct checkout on Bonanza. You may also choose to send a money order as payment. If you choose this method, you are required to send a confirmation and tracking code within 24 hours of making your purchase. All purchases with Money Order as the chosen method, that have not sent confirmation of payment within 24 hours, or have otherwise spoken to me, will be terminated, and appropriate Bonanza feedback will be left.
Payments are due within 3 calendar days of purchase. If you have an extenuating circumstance, or are requesting a payment plan, please email us FIRST, before purchasing, to work this out. We do not allow payment plans without a substantial deposit placed on the item at the time the agreement is made. Substantial down payment is due via money order or cash, not using credit card methods. No exceptions will be made to that rule.
Shipping
SHIPPING – We ship within 3-5 business days of your payment. Please note that we do not ship on weekends or holidays, so please take care to make your purchases within adequate time for you to receive it, especially during holidays. We usually ship First Class or Priority, and we do offer International shipping. If you need to receive an item quicker than 3-5 business days, please let us know and we will adjust your shipping cost to reflect an expedited shipping rate. This may not be available during Christmas season, as unfortunately, the post office will not guarantee how quickly items will arrive during the month of December.
The cost of shipping internationally is different than the cost for shipping in the United States. We do try to ship using First Class whenever possible, as the cost is lower. Please remember when we are sending items outside of the United States, we are not responsible for any customs delays, or custom fees that may occur. Although seldom, it does happen. We occasionally have issues with the postal service due to natural disasters and holidays, so please plan your shopping accordingly if you are on a tight timeframe.
Please Note: Some of our magickals are custom cast and/or created and crafted AFTER your purchase. Most are pre-cast/conjured and ready for Immediate shipment. Custom conjures and certain spells can take up to 14 days or more to complete. Please be aware of this. If this item will take longer to deliver to you, the listing will be noted as such!
COMBINED SHIPPING DISCOUNT: We will combine items at no extra charge when paid for together in one invoice at check out, as long as the packaging will allow us to do so. Save Money when you buy more. Please email us when you are finished purchasing so that we can combine your invoice for you.
SPECIAL NOTES REGARDING INTERNATIONAL SHIPPING: The United States heightened their security measures for packages shipped overseas on November 18, 2010. This has slowed down shipping times tremendously. Packages that used to take 7-10 days can take up to 4-6 weeks. Canada, Australia and the UK are particularly slow. We don't have any control over this, so please be patient if your package takes longer than expected. Shipping Priority or Express often ensures that it will be delivered within 3 to 10 days. If you need an item shipped via Priority or Express Mail, fees are in excess of $20 starting, but please contact us immediately after you purchase, and before paying, so we can send you an adjusted invoice to accommodate the change in shipping cost. Delivery Confirmation is NOT actual Tracking nor is the International Custom Form number. These numbers are scanned in at time of mailing confirming the Post Office has the package and usually scanned again at the main mail sorting plant near here—AFTER that they do NOT usually update until AFTER delivery. If you wish true constantly updated tracking we can add that for an extra charge but it is very expensive.You will generally receive an automated email from Paypal when your item is shipped. If you feel that you must be able to track the package, you will need to pay for the more expensive shipping method. This is very expensive, but is your only way of ensuring that you know your item is safe. Unfortunately, with the issues in each country, we cannot guarantee, that after an item leaves the United States, it will arrive to you without interference. The post office, and ourselves, have had countless debates over this. They also have issues with countries charging their citizens extra customs fees randomly, this is also something we have no control over, and although it is only occasional, it is something that we cannot expect nor guess about.
NO LAYAWAYS ARE BEING OFFERED AT THIS TIME.
A Word About Magick:
Due to the nature of our business, we do not accept returns or give refunds. We try to never make mistakes on our shipments, but if for some reason we have sent you an incorrect item, please let us know right away so that we may correct that error.
REFUNDS: All sales are final. The only time we ever offer a refund is if the item has arrived damaged. This rarely occurs, but if it does, we require that our clients email us a picture of the damaged item, and upon our receiving the photo and deeming that it is, in fact, damaged in transit, we will require that the buyer return the damaged item to us, at the cost of the buyer. Once we are in receipt of the item, we will then return your purchase price, minus the shipping cost.
We are very strict about our NO RETURNS ACCEPTED policy, as well as have added this disclaimer so that you are fully aware that when you purchase from us, you are releasing us from any liability associated with your purchase, our items, and by purchasing from us, you have agreed to our policies as stated above.
LEGALLY REQUIRED DISCLAIMERS:
Sold As A Curio Only…Please Read the Disclaimers below!
Disclaimer:
Pursuant to the current United States Postal Service regulations and other Country, State, City and/or Federal and/or other nation's laws we must state all items on this site are sold "for entertainment purposes only". We must advise all products are "Sold as Curios Only" All information herein is from traditional or historical reference and intended to help you make an informed decision.
FOR ENTERTAINMENT PURPOSES ONLY-WE CANNOT GUARANTEE THE LEVEL OF PSYCHIC OR PARANORMAL ACTIVITY THAT MAY OR MAY NOT OCCUR. NOT RESPONSIBLE FOR MISUSE OF THIS ITEM OR IT'S POWERS-NOT A SUBSTITUTE FOR MEDICAL TREATMENT-LEGAL ADVICE, ETC. PLEASE SEE A DOCTOR FOR HEALTH PROBLEMS AND THINK POSITIVE-VISUALIZE YOUR HEALING-REMEMBER MODERN MEDICINE IS A MAGICK OF SORTS, TOO. BUYERS MUST BE OVER 18 YEARS OF AGE.
---
The above statements are LEGALLY REQUIRED in some locations and should not reflect on our dedication to service and genuine quality products and services.
Our email address is MoondancerOriginals@yahoo.com
Our hours online are random, and we do our best to respond to all messages in the order in which they are received. We have become very busy, but your messages are important to us. Please allow 24-48 hours for a reply, but should you not hear from us, please email again in case we have overlooked you! It most likely was not intentional, but unfortunately, we cannot do more than one thing at once and sometimes we get behind.
We have several online stores and may offer different items in each site. Please feel free to browse all of our locations to get the best deals and pricing. Some discounts and pricing options are special offers exclusive to the site, and are not transferable. All items and prices are subject to change without notice and are not valid retroactive of a purchase.
If you are expecting instructions on using an item, meaning, if in the listing it denotes that you will receive instructions, they will be sent AFTER you receive the package safely. This is so we can maintain our communication with you, and know that you received the package. We do this for the safety of alchemical information and your own confidentiality.
Look for us on: Facebook, Twitter and MoondancerOriginals.com
Moondancer Originals text, photographs of items or services, logo and all listing descriptions, written experiences and testimonials, are plagiarism protected and are Copyright material. Use of any Moondancer Originals material is considered copyright infringement, and is prohibited by law without written permission from a Moondancer Originals representative.
txzj pxzj2834 txzj67