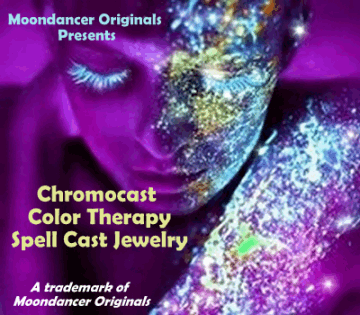 What Is Chromotherapy?
Chromotherapy is a selection of scientific study that concentrates on the use of the color spectrum to adjust bodily frequencies and manipulate them to achieve harmony, peacefulness, and good health. As most scientific study involving spectrum has already concluded, colors each carry a different frequency, or vibration.
Chromotherapy involves using those different vibrations on the body, similar to the concept of biofeedback,to treat illnesses. Although not fully accepted by medical experts, the idea behind chromotherapy, and experimental usage of color to treat disease, is not a new concept. In fact, a variety of experimental medical studies done involving color originated in the 1800's and before!
Here at Moondancer Originals, I think it is safe to assume that all of you know we go against the grain, by doing what "we feel" is right, esoterically speaking. If it has worked for us, and has worked for our clients, we believe it is worth a second look.
Do not be confused by the new jargon being used by the medical industry, called "light therapy." The concepts are much the same in principle, but the name has been changed to dissociate it from "mysticism and magick."
About This Pendant
A beautiful half moon pendant necklace with an array of brilliant purple violet, indigo and turquoise beads and threading.
This pendant is a powerhouse of energy geared to improving the life of its wearer!
Handcrafted Pendant.
The healing vibrations of the colors purple violet, turquoise and indigo are upon this pendant.
Purple/Violet belongs to the 7th chakra, the crown chakra in the head region. It focuses on the pituitary gland, cerebral cortex and nervous system. This color causes vibrations that influences energetic imbalances, controls headaches, mental deficiencies and depression, nerves, and cancers. Using violet in your healing can help to treat melancholy feelings and taking control of one's life again.
Indigo is associated with the 6th energy chakra, or brow area. Its focus is the improvement and treatment of depression, transformation of ones life, and ambition achievement. Using the color indigo in our healing can help with headaches that feel as though they are coming from the eyes and eyebrow region, hormonal imbalances and developmental disorders. Different from blue, indigo turns our energies inward, allowing the communication flow within the self and through to our spirit guides stronger and with more ease. Sometimes there is a need to focus on issues we are having, especially those that tend to reoccur because we have not yet dealt with them. There is nothing wrong with needing some space and solitude from others, and indigo will promote opportunities for that to occur. Inspiration and new ideas can be achieved almost instantaneously when we use indigo color vibrations. This is most readily seen when people find solitude and thoughtfulness upon looking at the night sky and the stars. Solutions naturally arise when we spend time pondering during the night.
Turquoise is associated with protection and individuality. One of the most dominant colors on this spell cast pendant, when used in healing, it can promote health and guard its wearer against harms. Turquoise, a blend of green and blue, incorporates the communication aids of blue vibration with the quality of growth given by the green vibration. Essentially, the turquoise is the vibration of helping with expressions of individuality and doing what is in your heart. Once you can communicate what you love, you can recognize what needs to be done to allow yourself to be you. New feelings and emotions will be discovered through the use of turquoise color vibrations, and do not be surprised to find new ways to do old things, and a need to step away from the old. People who need to use turquoise typically find that they are not fitting in to the community where they live, and little did they know, that has caused a toxic build up of stress in the body that turquoise can relieve. You will need to find a place more for you, and turquoise color healing can help you discover what it is. Representing courage and self discovery, inner confidence can be achieved.
Our family spell cast this pendant with the following spells:
The easy releasing of blockages in our lives that keep us from operating at our highest vibration.

Healing from heartbreak and being able to let love back in, positively

Letting go of past issues that limit our spiritual growth

Controlling and improving sense of self worth

Releasing depression and sorrowful feelings back to the universe

No longer accepting negative energies into our lives

Taking control of our destiny here on the earth plane

Removal of stresses in our lives that cause us to not speak how we are feeling.

Enhancing spiritual communication - letting our guides know we want them with us more frequently.

Finding our correct pathway. Using the color gold, we cast for the wearer to be able to invite the correct pathway to them quicker.

Shedding your old skin to transform your world.

Allowing others with positive vibrations to be attracted to us in a beneficial way.

Communicating with animals.

Stopping rumors being spread about you. Stopping the spreading of untruths.

Bringing new ideas into our lives quickly.

Creating new entrepreneurship, business ventures that are lucrative.

Relieving physical, mental and emotional pain.

Making time move slower, esoterically, so you can sort out your thoughts.

Understanding new philosophies and ideas you were previously having issues with.

Finding peace during hard situations with more ease

Being able to stop, time out, and focus on yourself and what you want for once.

Being able to remove toxic stress build up for your life.

Changing your direction to get back to who you know you are inside.

Fear and courage for self confidence building.

Freedom of self expression, free flow of energy.

Courage to start over! Today is a new day.
Let's Explore the History and Scientific Research Available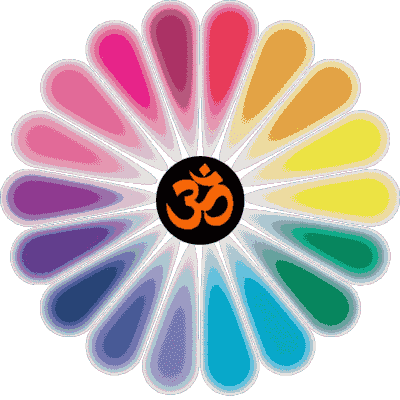 Please review the scientific published research paper here for the full analysis of the history and uses of Chromotherapy here:
The below content comes directly from this research paper - http://www.ncbi.nlm.nih.gov/pmc/articles/PMC1297510/
Chromotherapy is a method of treatment that uses the visible spectrum (colors) of electromagnetic radiation to cure diseases. 
It is a centuries-old concept used successfully over the years to cure various diseases.
Every creature is engulfed in light that affects its health conditions. The human body, according to the doctrine of chromotherapy, is basically composed of colors. The body comes into existence from colors, the body is stimulated by colors and colors are responsible for the correct working of various systems that function in the body. All organs and limbs of the body have their own distinct color.

All organs, cells and atoms exist as energy, and each form has its frequency or vibrational energy. Each of our organs and energy centers vibrates and harmonizes with the frequencies of these colors. When various parts of the body deviate from these expected normal vibrations, one can assume that the body is either diseased or at least not functioning properly.

The vibratory rates inherent in the vibrational technique (chromotherapy) are such that they balance the diseased energy pattern found in the body. For in every organ there is an energetic level at which the organ functions best. Any departure from that vibratory rate results in pathology, whereas restoring the appropriate energy levels to the physical organs results in a healed body.
Chromotherapy is a narrow band in the cosmic electromagnetic energy spectrum, known to humankind as the visible color spectrum. It is composed of reds, greens, blues and their combined derivatives, producing the perceivable colors that fall between the ultraviolet and the infrared ranges of energy or vibrations. These visual colors with their unique wavelength and oscillations, when combined with a light source and selectively applied to impaired organs or life systems, provide the necessary healing energy required by the body.

Light affects both the physical and etheric bodies. Colors generate electrical impulses and magnetic currents or fields of energy that are prime activators of the biochemical and hormonal processes in the human body, the stimulants or sedatives necessary to balance the entire system and its organs
Metaphysical View
Hassan related the human body to the electromagnetic energy glow surrounding every creature. In his view, this body or energy glow is responsible for keeping our body healthy. The same fact is described by Azeemi in his book Color Therapy thus: 'It is a wrong concept that our physical body is itself everything, but instead the electromagnetic glow (aura) around the body gives us the energy and transfers health or diseases to the physical body'.
These concepts received support from Russian scientists who worked in collaboration with an Indian researcher, Shah, using Kirlian technology. They took pictures of the electromagnetic energy glow around the human body and discovered that actual disease appears first in the aura and is then transferred to our physical body and can be detected 6–8 months prior to appearance in our physical body.
Thus, they have established the fact that chromotherapy can be a preventive treatment. In support of this theory, Thelma Moss noted: 'All seemingly solid objects in our world including our bodies are made up of the electromagnetic energy, the more dense the energy the more solid the object is.'
This fact also demonstrates an idea of Einstein's quoted by Shah in his article 'Divine healing', thatif we are the objects with mass "m" and we expose ourselves to a very powerful and high intensity electromagnetic field, and then we will gradually be transformed from matter into energy. In the form of energy, if we obtain a superior level of consciousness then we will be able to direct the flow of energy and we will not be restricted by the limited dimensions of space-time.
Therefore in this condition we can surpass the boundary of time to return back into the past or to travel in the future. In addition to the fact that we are an energy source that possesses conscious wisdom, we have the capability to transform ourselves back to the physical form.
After Einstein's statement, a new door could be opened to justify the electromagnetic body around the physical body, as posited by Klotsche in Colour Medicine and that only Einstein could demonstrate to the materialistic or mechanized Newton-bound world of the West through his mathematical energy formula E =mc2. According to Einstein energy and matter are interchangeable and interconvertible. Klotsche explains this phenomenon thus:
We know that the vibratory rate of a substance determines its density or its forms as matter. When we recognize the vibratory patterns in the universe, i.e. the energy ranges or fields found on the cosmic electromagnetic scale, we will then be able to open the doors to the tremendous healing powers found in the subtle energy octaves of the cosmos.

The visible light spectrum with its beneficial frequencies for the human body provides the preventing tool for healing. Colour Medicine is truly, the medicine of the future.
Chromotherapy provides colors to the electromagnetic body or the aura (energy field) around the body, which in turn transfers energy to the physical body. This makes chromotherapy the most effective among various therapies.
When we speak of color, we mean energy waves. Every color, each with its own frequency, is a form of energy. Ghadiali agreed that beaming a color or colors onto the skin acts as a form of feeding color to the body. Patterson of Stellar Research Corporation explains that 'light is the closest thing to pure energy that we can identify. Colour as pure vibrational energy is the rational therapy for maintaining health and overcoming disease'.
When applied to the human body, light will provide all deficient energies since every color is associated with a quantity of energy. A concept from physics confirms the idea of chromotherapists that 'colors provide energies'. There have appeared no contradictions among any of the theories about chromotherapy presented, but still there are some areas of study which were not focused on in the past, including the study of the electromagnetic radiation glow around the human body and its quantization.
Colors have a profound effect on us at all levels—physical, mental and emotional. If our energy levels are blocked or depleted, then our body cannot function properly, and this in turn can lead to a variety of problems at different levels. This concept is also supported by Klotsche, who stated:
These interrelating systems of subtle forces recharge or rechannel energy into diseased areas where it is blocked or deficient, for disease is nothing more than a restriction of energy flow. As we know energy or vibrational flow along the path of least resistance and through the extra energy associate with the use of vibrational healing, the appropriate energies seek out the needed areas, freeing blocked energy where it is most required.

The interaction between the dense physical energy of the body and the subtle energy, which controls many of the body functions or activities, is the key to understanding relationship between energy and matter.
This energy body can also be proved through photography, as described by Perry in scientific documentation of chromotherapy: in 1939, Kirlian discovered that if an object on a photographic plate is subjected to a high voltage electric field, an image is created on the plate. The image looks like a colored halo or a coronal discharge. This image is said to be the physical manifestation of the electromagnetic radiation around the body (aura), which allegedly surrounds every living thing.
Qalander explained unrevealed facts about the human body and its energy glow in his work. This idea has also been used by Shah and Russian medical staff for treating patients. This discovery led to a new area of research; unfortunately, scientists even today have not yet explored the relationship between the basic science of electromagnetic energy around the body (aura) and chromotherapy.
Orthodox medicine and science give their own explanations of how light works. These explanations are based on strictly physical functions and ignore the bioelectric energy field, which has been demonstrated or photographed with Kirlian devices. That electromagnetic energy can be moved through our auras into the physical body by light frequencies, using color medicine, can also be explained thus: 'All living things are moist; the moisture is transferred from the subject to the emulsion to the electric charge pattern on the films, causing a Kirlian image to appear'.
This undoubtedly helps us understand how disease is cured according to the doctrine of chromopathy, but the area that should be emphasized is the quantum state of electromagnetic radiance around every living body.
About Us
One of the top 10 Elite, Original Metaphysical Sellers! We have been offering metaphysical services and items to clients for more than 25 years. We have over 1,000 happy internet clients, and many thousands of transactions and clients through the years. Before eBay and Etsy went public, we were there serving clients and spreading metaphysical awareness. We have been in the metaphysical industry prior to when it was possible to reach so many clients by internet! Let us help you help yourself to change your life for the better as well! Become another happy client!
We offer 100% Authentic Magick – we spell cast items, conjure spirits, offer healing and psychic services, and haunted artifacts from our travels. Haunted Paranormal & Occult is our life! We are here to answer questions and rehome spirits that are needing new masters. We specifically work with metaphysical practitioners and a conjurer that deals in summoning Illuminati owned spirits, getting them out of the hands of the most powerful and certainly already most fortunate, and into the mastership of those who they could be the most service to! We also offer at 100% FREE Paranormal, Spirit Keeping, Bonding & Communication FORUM for ANYONE to join and communicate with others of similar interests! Check it out and join the magick! You can click the link here or find it on the homepage of our website!
http://spiritsandmagick.forumotion.com/
Paranormal experiences occur in different ways and take different forms. We take a lot of pride in what we offer in our store. This is our life and we love what we do. We have been involved in the metaphysical field for many years, and we have established many great connections and relationships through our work that enable us to offer items from all over the world to you.
We would like to address that we are selling metaphysical items, and as such, much of our information is received by hearsay, folklore, mythological tales, and channeled information. As such, we will not be held liable for what does/does not happen after you have purchased one of our items. Our items are clearly labeled, "No Returns Accepted" because of the nature of the business we are in. When you purchase one of our items you are fully understanding this, and taking full responsibility for yourself and your purchase. "Magick" is different for each and every person, and the results you experience are different. Each one of us on this earth experiences the world differently, the same way we experience the metaphysical differently than one another. We are passing along and re-homing many spiritual companions, passing on and delivering to you channeled messages and hearsay regarding these spirits and/or haunted items, and we are not responsible for your experiences with them after that point and we are not responsible for the "validity" of the information. We do study and research as much as possible after we have received channeled information to decide whether or not it resonates with ourselves after we have received it. We ask that you do the same.
If it resonates with you, please purchase from us. If it does not, please do not purchase from us. There is no way for us to know whether or not our spirits and the information we have received is truth. We want to believe our spirits have told us and our friends the truth, but we are not "guaranteeing" any of the information we have provided.
Channeled information from any source be it spirits, extra-terrestrials, or humans, is exactly as we have stated – there is no way for us to verify truth from untruth, and so we just provide the information as we have received it. This is not a place for the skeptical, as magick has never and will never work for those who do not believe in it. It is as simple as that.
We feel we were called to do this job in this lifetime, and we ask that you buy from us accordingly as it resonates inside you.
Payments are accepted via Paypal and Amazon Checkout, as well as credit cards using the direct checkout on Bonanza. You may also choose to send a money order as payment. If you choose this method, you are required to send a confirmation and tracking code within 24 hours of making your purchase. All purchases with Money Order as the chosen method, that have not sent confirmation of payment within 24 hours, or have otherwise spoken to me, will be terminated, and appropriate Bonanza feedback will be left.
Payments are due within 3 calendar days of purchase. If you have an extenuating circumstance, or are requesting a payment plan, please email us FIRST, before purchasing, to work this out. We do not allow payment plans without a substantial deposit placed on the item at the time the agreement is made. Substantial down payment is due via money order or cash, not using credit card methods. No exceptions will be made to that rule.
SHIPPING – We ship within 3-5 business days of your payment. Please note that we do not ship on weekends or holidays, so please take care to make your purchases within adequate time for you to receive it, especially during holidays. We usually ship First Class or Priority, and we do offer International shipping. If you need to receive an item quicker than 3-5 business days, please let us know and we will adjust your shipping cost to reflect an expedited shipping rate. This may not be available during Christmas season, as unfortunately, the post office will not guarantee how quickly items will arrive during the month of December.
The cost of shipping internationally is different than the cost for shipping in the United States. We do try to ship using First Class whenever possible, as the cost is lower. Please remember when we are sending items outside of the United States, we are not responsible for any customs delays, or custom fees that may occur. Although seldom, it does happen. We occasionally have issues with the postal service due to natural disasters and holidays, so please plan your shopping accordingly if you are on a tight timeframe.
Please Note: Some of our magickals are custom cast and/or created and crafted AFTER your purchase. Most are pre-cast/conjured and ready for Immediate shipment. Custom conjures and certain spells can take up to 14 days or more to complete. Please be aware of this. If this item will take longer to deliver to you, the listing will be noted as such!
COMBINED SHIPPING DISCOUNT: We will combine items at no extra charge when paid for together in one invoice at check out, as long as the packaging will allow us to do so. Save Money when you buy more. Please email us when you are finished purchasing so that we can combine your invoice for you.
SPECIAL NOTES REGARDING INTERNATIONAL SHIPPING: The United States heightened their security measures for packages shipped overseas on November 18, 2010. This has slowed down shipping times tremendously. Packages that used to take 7-10 days can take up to 4-6 weeks. Canada, Australia and the UK are particularly slow. We don't have any control over this, so please be patient if your package takes longer than expected. Shipping Priority or Express often ensures that it will be delivered within 3 to 10 days. If you need an item shipped via Priority or Express Mail, fees are in excess of $20 starting, but please contact us immediately after you purchase, and before paying, so we can send you an adjusted invoice to accommodate the change in shipping cost. Delivery Confirmation is NOT actual Tracking nor is the International Custom Form number. These numbers are scanned in at time of mailing confirming the Post Office has the package and usually scanned again at the main mail sorting plant near here—AFTER that they do NOT usually update until AFTER delivery. If you wish true constantly updated tracking we can add that for an extra charge but it is very expensive.You will generally receive an automated email from Paypal when your item is shipped. If you feel that you must be able to track the package, you will need to pay for the more expensive shipping method. This is very expensive, but is your only way of ensuring that you know your item is safe. Unfortunately, with the issues in each country, we cannot guarantee, that after an item leaves the United States, it will arrive to you without interference. The post office, and ourselves, have had countless debates over this. They also have issues with countries charging their citizens extra customs fees randomly, this is also something we have no control over, and although it is only occasional, it is something that we cannot expect nor guess about.
Other Policies
NO LAYAWAYS ARE BEING OFFERED AT THIS TIME.
A Word About Magick:
Due to the nature of our business, we do not accept returns or give refunds. We try to never make mistakes on our shipments, but if for some reason we have sent you an incorrect item, please let us know right away so that we may correct that error.
REFUNDS: All sales are final. The only time we ever offer a refund is if the item has arrived damaged. This rarely occurs, but if it does, we require that our clients email us a picture of the damaged item, and upon our receiving the photo and deeming that it is, in fact, damaged in transit, we will require that the buyer return the damaged item to us, at the cost of the buyer. Once we are in receipt of the item, we will then return your purchase price, minus the shipping cost.
We are very strict about our NO RETURNS ACCEPTED policy, as well as have added this disclaimer so that you are fully aware that when you purchase from us, you are releasing us from any liability associated with your purchase, our items, and by purchasing from us, you have agreed to our policies as stated above.
LEGALLY REQUIRED DISCLAIMERS:
Sold As A Curio Only…Please Read the Disclaimers below!
Disclaimer:
Pursuant to the current United States Postal Service regulations and other Country, State, City and/or Federal and/or other nation's laws we must state all items on this site are sold "for entertainment purposes only". We must advise all products are "Sold as Curios Only" All information herein is from traditional or historical reference and intended to help you make an informed decision.
FOR ENTERTAINMENT PURPOSES ONLY-WE CANNOT GUARANTEE THE LEVEL OF PSYCHIC OR PARANORMAL ACTIVITY THAT MAY OR MAY NOT OCCUR. NOT RESPONSIBLE FOR MISUSE OF THIS ITEM OR IT'S POWERS-NOT A SUBSTITUTE FOR MEDICAL TREATMENT-LEGAL ADVICE, ETC. PLEASE SEE A DOCTOR FOR HEALTH PROBLEMS AND THINK POSITIVE-VISUALIZE YOUR HEALING-REMEMBER MODERN MEDICINE IS A MAGICK OF SORTS, TOO. BUYERS MUST BE OVER 18 YEARS OF AGE.
---
The above statements are LEGALLY REQUIRED in some locations and should not reflect on our dedication to service and genuine quality products and services.
Our email address is MoondancerOriginals@yahoo.com
Our hours online are random, and we do our best to respond to all messages in the order in which they are received. We have become very busy, but your messages are important to us. Please allow 24-48 hours for a reply, but should you not hear from us, please email again in case we have overlooked you! It most likely was not intentional, but unfortunately, we cannot do more than one thing at once and sometimes we get behind.
We have several online stores and may offer different items in each site. Please feel free to browse all of our locations to get the best deals and pricing. Some discounts and pricing options are special offers exclusive to the site, and are not transferable. All items and prices are subject to change without notice and are not valid retroactive of a purchase.
If you are expecting instructions on using an item, meaning, if in the listing it denotes that you will receive instructions, they will be sent AFTER you receive the package safely. This is so we can maintain our communication with you, and know that you received the package. We do this for the safety of alchemical information and your own confidentiality.
Look for us on: Facebook, Twitter and MoondancerOriginals.com
Moondancer Originals text, photographs of items or services, logo and all listing descriptions, written experiences and testimonials, are plagiarism protected and are Copyright material. Use of any Moondancer Originals material is considered copyright infringement, and is prohibited by law without written permission from a Moondancer Originals representative.
txzj pxzj1277 txzj67