Archangel Ascended Master Michael
Powerful Protection, Evil Banishing, Curse & Hex Removing
Portal Imbued Petitioning Amulet
100% Authentic, Real Magick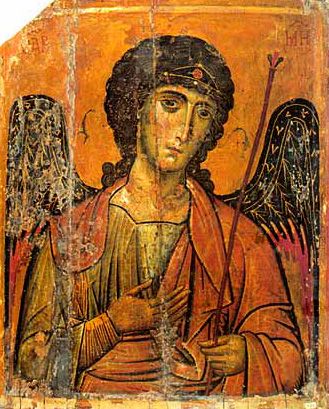 Archangel Michael has been called such names as Lord Michael, Prince of the Archangels, Saint Michael, Archangel of the 1st Ray, Defender of Faith, and the Viceroy of Heaven.
Through many succeeding cycles of time, as Ray after Ray provided The Pathway for the descent of new Spirits, Lord Michael has remained as the Guardian Overlord of the Angelic Host, the Elemental Kingdom and humanity. He shall not fold his Cosmic Wings about him to return home until the final Angelic Being is freed, the last man is redeemed and the last Elemental returned to its perfect state. This is the love of Lord Michael, who like many others, is a Prisoner of Love to the life he serves.
Archangel Michael is referred to as the greatest of all angels in writings throughout the world, including Jewish, Christian and Islamic.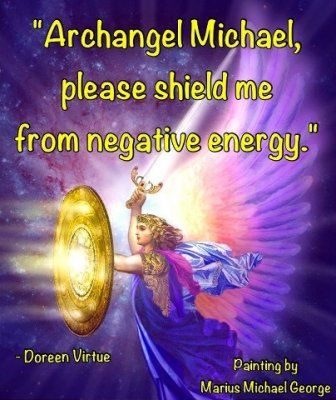 There are 4 Great Archangels, of which Michael is second. The staff or wand in which he holds within his hands is known as "the wand of courage, lying at the heart of hope, and the summer sun." He protects our consciousness, being, and our world. He is the angel of deliverance, and his name, "Michael," means "who is of God."
There are only three archangels whose names appear in the Old Testament - Michael, Gabriel and Raphael. Michael stopped Abraham from sacrificing his son Isaac. According to the Legends of the Jews, the fire in the burning bush held the appearance of the angel Michael, who held the key to the abyss and a great chain in his hand. In fact, in multiple accounts, he is believed to be holding armor and/or chain, and carrying a sword. He is believed to have the appearance of a strong, handsome young man, with hardened, chiseled features and a muscular stature, and apparent fierce eyes that look like they have fire burning within them. His skin has been said to be the hew of warm coppery fire, due to his being in the constant presence of God.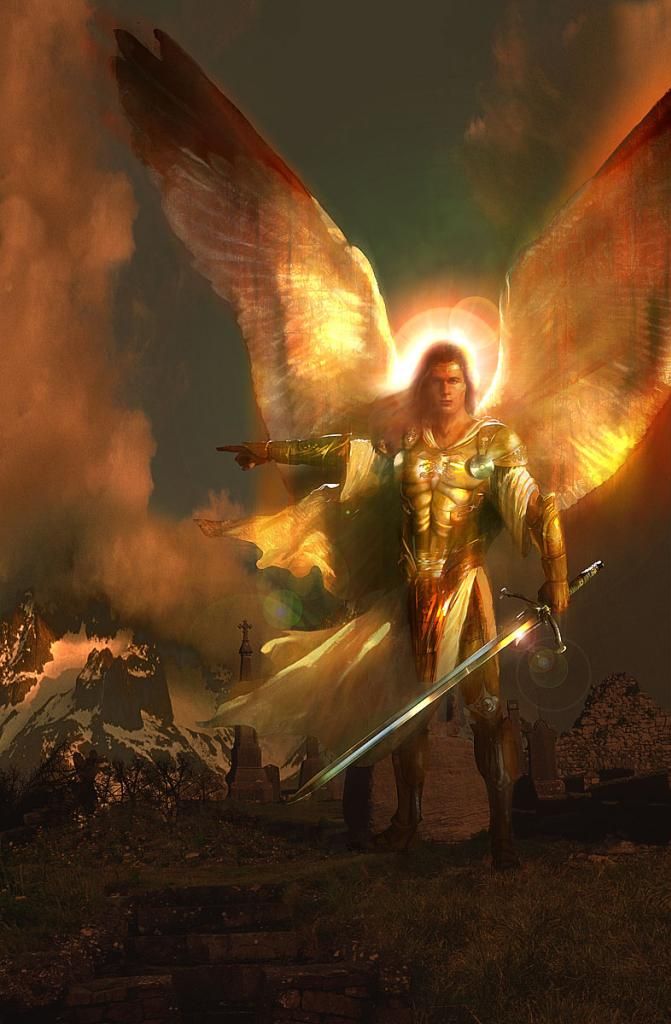 To visualize Archangel Michael, you will need to turn your mind's eye to the South, and imagine you are facing the blazing figure of this vibrant Archangel of Fire.
He stands within a girdle of stars, dressed in scarlet tunic, embellished with the armor of chain hewn in gold. Through the brilliance of the powerful heavenly force that surrounds him, he holds a burning wand of flame, lit from the noonday fires that gave birth to the sun.
He is believed to be an Angel of the Blue Flame, which has also held such variation of names such as Legions of Blue Lightning Angels, Angels of the Sword of Blue Flame, and Legions of Blue Flame Angels.
Mikael challenges our energy and enthusiasm, for he is the bringer of Hope, and his wand represents the notion of Courage to face the dangers that may confront us in life. In much the same way, we can take comfort from the summer sun, consoling our fears, and giving power to the Inner Spirit to overcome.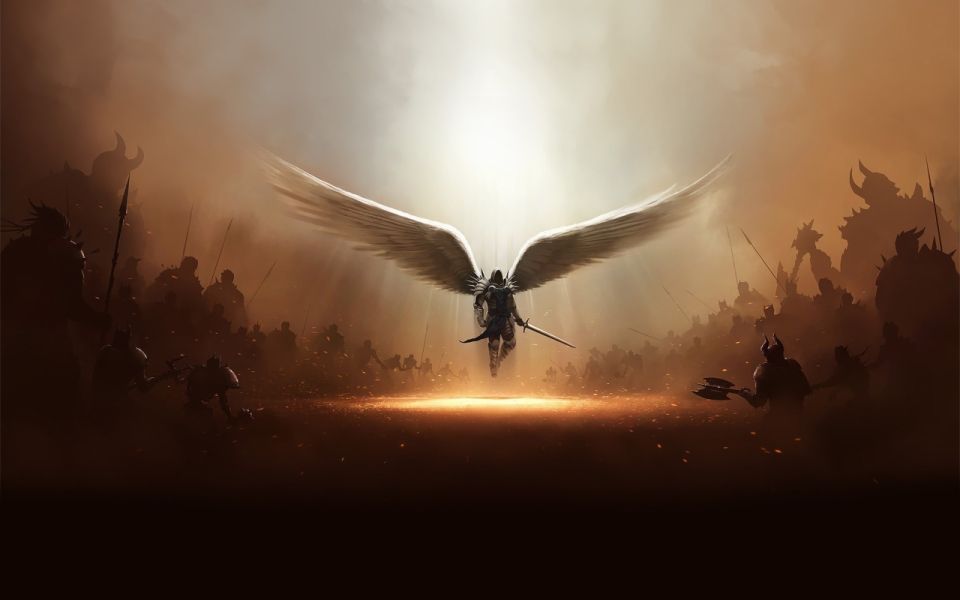 It is said, that if you are lucky, and if you watch carefully, Mikael will turn in recognition of your presence, and just for passing second you may catch a glimpse of the laughter of the ages in the blaze of his amber eyes, and see the brilliance of the midday sunlight in the flaming red of his hair.
Swiftly he draws a spiral of fire across the heavens, before swinging round to stand astride the pathway of the sun; unchallengeable and battle-proud, as he raises the burning wand of force, and remains in stance of active combat.
Archangel Michael, although able to work on a multitude of levels, is most good as a personal protection guide. He is to be called upon using the portal that has been created and openly imbued to this amulet. The amulet is made of pewter, and roughly 1.25" engraved with hermetic and Kabalistic precepts. An activation ritual will be included, and the activation will need to be completed upon your receipt of the amulet in order to have the best, most powerful results. It is important to remember that Archangel Michael is imbued esoterically, and not bound to the amulet you are receiving, so you will need to petition and call him forth when you need him.
Archangel Michael doesn't lose a battle! He is the defense you need if you are suffering from bad juju, curses, ill intent from another, an issue with foe, or generally bad energy bringing you down! His generosity of his commitment to protecting will be evident to you from the moment you start bonding with him. You will be given an activation ritual, and a petitioning prayer, that will activate the casting performed on this bracelet, and will esoterically alert him to your need for him; furthering your bonding process with him. The more you speak to him, and the more often you use the petitioning prayer, the more powerful your bond will become, and the more powerful his abundance and protection will be over you.
The petitioning prayer that will be provided to you, combined with the hermetic and kabalistic symbols engraved into the pewter, and the portal imbued upon the amulet, provide for an incredibly powerful source of help to you, that seems complicated, but is VERY easy for you to use! You will need to make sure that you do the petitioning prayer in a quiet space, where you can clear your mind. We recommend that this petition is completed everyday for the first 90 days, so that you can ensure you are bonding to the highest degree possible.
Do not believe for a second that it is impossible for you to partake. Hermetic and Kabalistic magick has been around for ages, and using the simple petitioning prayer daily, and activating the amulet, are literally all it takes for you to unlock some of the most powerful magick that exists. If you need protection, then surely going to the ultimate source to ensure that you cannot be esoterically bothered any longer by outside forces and the evil of others, is the best strategy. It has often been asked of us, how we can ensure that the angel you are contacting is Archangel Michael, and not another. The answer is simple and two part- the symbols themselves are ancient symbols that ONLY relate to Archangel Michael himself. No other angel share's the symbol with him. Secondly, the portal that we created and esoterically imbued, which means tied, or tethered, to the amulet you are going to receive, was created ONLY to allow in white light beings. No dark entities are able to cross the dimensional threshold, so we can guarantee that there is two part protection we have put in place so that you are ONLY petitioning and bonding with Archangel Michael himself.
It is important to recognize that there are battles that we are all fighting every single day. These battles go far beyond those that exist in only flesh and blood, and those battles should be met with the fiercest of protection for you. Aligning yourself with the highest vibrational beings possible, and in this case, the highest, being Archangel Michael, the most powerful ally that you can have; aligning yourself with the divine is NEVER a bad thing.
Do not allow other forces, energy, or people, affect you negatively. If you have any questions, you are certainly free to message us at anytime! We welcome questions on the use of the amulet, Archangel Michael, etc. and offer continuing support to our clients.
You will notice that we are probably not the "cheapest" of magick available on the internet. We know that. But we can also guarantee that we are "real." Authentic magick is all we do here. If you have doubts, then please ask questions, or maybe wait until you do more research before purchasing. The amount of time that goes into creating and casting magick, creating portals, imbuing and conjuring/summoning is intense and not something that can be done quickly. We have to price those offerings according to the time we have put into their creation.
Please Note: We are constantly working on magick. You will receive this amulet within 30 days of purchase because we have to allow the portals we are imbuing onto the amulets to season. The amulet is done, but the magick we have placed on the amulet, needs to be finished, if that makes sense. SO, please be patient and know that your amulet will arrive to you, but you need to allow the full 30 days in some cases.

Namaste' Dear Ones.
Rebecca Moondancer and Family

Moondancer Originals only accepts PayPal for ease of use, safety, and security reasons. Please make all payments within 3 business days of committing to purchase an item. If you have an extraordinary circumstance please message us to let us know what is going on, and when you will be able to purchase the item, and each case will be looked into on an individual basis. If we do not allow you to extend the payment deadline, please understand that it is not personal, rather just trying to efficiently run our business. Please note that we do have to wait for some payments to clear before sending out.

Only bid if you are seriously intending to make this purchase. Due to the high number of non-paying bidders, we do have to restrict bidding to those who have an account that is currently in compliance with bidding and purchasing policies. It is nothing personal, and if you are not allowed to purchase, please work to get your account back into compliance and then come shop with us once more!

If you do not pay for your item within the payment deadline, we will send you one reminder, and then we will open a non-payment case against your account and leave you negative feedback. We try to avoid leaving negative feedback at all costs, as this will seriously hinder your ability to purchase other items down the road from other sellers, but we will be forced to initiate this process should you choose not to pay for items you have committed to buying in an attempt to help all sellers lessen the rapidly growing non-payment issue and protect our businesses.
We ship to the USA and Internationally. We do not ship on holidays or weekends. Please keep in mind that all payments must clear before we are able to send your item out. We will mark the item as shipped within the transaction, so please be checking your account for updates.
Please Note: This item is marked for delivery within 30 days of payment. You may or may not receive this pendant sooner than 30 days.

Due to the nature of our business, we do not accept returns or give refunds. We try to never make mistakes on our shipments, but if for some reason we have sent you an incorrect item, please let us know right away so that we may correct that error.
Paranormal experiences occur in different ways and take different forms. We take a lot of pride in what we offer in our store. This is our life and we love what we do. We have been involved in the metaphysical field for many years, and we have established many great connections and relationships through our work that enable us to offer items from all over the world to you.
Please feel free to email us at anytime regarding questions you have about our items, or advice you need about purchasing an item, etc. Please understand that we try to respond to all messages we receive within 48 hours, but we do receive a high volume of emails and try to respond to them in the order in which they have been received.
We tend not to respond to messages on holidays or weekends, but occasionally we have found ourselves so committed to our work that we have worked through the weekend responding to messages and helping our customers. This just depends on our work load, so please do not be offended if you should not receive a response until the following business day.
We are very passionate about our work. Please let us know how our items have changed your life. Feel free to message us and give us feedback down the road so we can add it to our client testimonials, and more importantly, so we can continue to positively affect the lives of our clients.

As per Legal requirements: We are required by law to state that anything we sell is for entertainment purposes only. We are not responsible for anything that happens once the buyer takes ownership of any of our items. You must be at least 18 years old to make purchases on this site.
Purchases made of products and/or services are done at your own risk. We are not responsible for misuse of any of the items from our store and those items/services should not be used in lieu of professional, legal, medical, financial or psychiatric advice or care.
Moondancer Originals text, photographs of items or services, logo and all listing descriptions, written experiences and testimonials, are plagiarism protected and are Copyright material. Use of any Moondancer Originals material is considered copyright infringement, and is prohibited by law without written permission from a Moondancer Originals representative.
We would like to address that we are selling metaphysical items, and as such, much of our information is received by hearsay, folklore, mythological tales, and channeled information. As such, we will not be held liable for what does/does not happen after you have purchased one of our items. Our items are clearly labeled, "No Returns Accepted" because of the nature of the business we are in. When you purchase one of our items you are fully understanding this, and taking full responsibility for yourself and your purchase. "Magick" is different for each and every person, and the results you experience are different. Each one of us on this earth experiences the world differently, the same way we experience the metaphysical differently than one another. We are passing along and re-homing many spiritual companions, passing on and delivering to you channeled messages and hearsay regarding these spirits and/or haunted items, and we are not responsible for your experiences with them after that point and we are not responsible for the "validity" of the information. We do study and research as much as possible after we have received channeled information to decide whether or not it resonates with ourselves after we have received it. We ask that you do the same. If it resonates with you, please purchase from us. If it does not, please do not purchase from us. There is no way for us to know whether or not our spirits and the information we have received is truth. We want to believe our spirits have told us and our friends the truth, but we are not "guaranteeing" any of the information we have provided. Channeled information from any source be it spirits, extra-terrestrials, or humans, is exactly as we have stated – there is no way for us to verify truth from untruth, and so we just provide the information as we have received it. This is not a place for the skeptical, as magick has never and will never work for those who do not believe in it. It is as simple as that. We feel we were called to do this job in this lifetime, and we ask that you buy from us accordingly as it resonates inside you. We are very strict about our NO RETURNS ACCEPTED policy, as well as have added this disclaimer so that you are fully aware that when you purchase from us, you are releasing us from any liability associated with your purchase, our items, and by purchasing from us, you have agreed to our policies as stated above.
txzj pxzj1277 txzj67